Adult Program Info
Programs
Links
Documents

| | |
| --- | --- |
| | Continuous all year |
| | Continuous all year |
2016 Summer Session @ The Northtown Center
We are excited to announce our Summer 2016 League will begin play Thursday, April 14th at the Northtown Center! Please click below for more information on our Summer 2016 session. We will continue to accept Registrations our traditional way - by phone, email, mail and in person, but we are transitioning to our All New online registration system which will provide many perks to all of our players. Registration and payments can be made directly into the system, you can track what's owed and when it's due and also will allow for much better communication between WNYRHL staff and all of it's players. You will even be able to print your own personal player card from your login page!
Some Notes for 2016 -
Our 18u/Highschool division will remain the 21u Division. We will also begin a Floor Hockey League on Saturday mornings - All WNYRHL rules will stay the same! Our 30+ Division will now become our 30+ Co-Ed division!
Jerseys for 2016 -
As with last year, you will have 3 options for jerseys this season. Please remember, no matter what you choose ALL TEAMS must wear matching jerseys throughout the season. Here are your 3 options...
1) You can choose a FREE set of league jerseys when you register (MUST REGISTER WITH DEPOSIT BY MARCH 1st to qualify!!!)
2) You can wear your own jerseys and choose to receive 2 FREE hours of rink time
3) Because you are a WNYRHL member, you can order fully custom, sublimated jerseys from our new sponsor Bardown Creative Apparel for just $50 each. Please contact Tim Turner at [email protected] to begin the process.
Wheels -
We will have a full stock of the best wheels in the game (Revision Hockey) available for exclusive, unbeatable member only pricing all summer long. Please contact [email protected] to order or you can arrive early for your first game to grab a set.
2016 Summer League Information -
Online Registration can be found HERE or you can go directly to www.wnyrh.leagueapps.com. * Please note we are currently accepting only TEAM CAPTAINS to register online, 30+ Co-Ed League participants, Youth Skills and Drills participants, and ALL Youth League participants. Once you pull up our online registration site, simply click Join a League on the right hand site and scroll down to choose the program you are registering for. From this point you will be walked through the registration process. If team players want to get a jump start on things they can click on the top right hand of the page "Sign Up" tab to get logged into our system. ALL Players for summer 2016 will need to "Sign Up" into our system. From there we will move you onto your correct team and division. If anyone has any questions or problems with the online Registration please contact [email protected] for assistance.
We will still accept registrations the traditional way as well this Summer. Please click below for information and forms.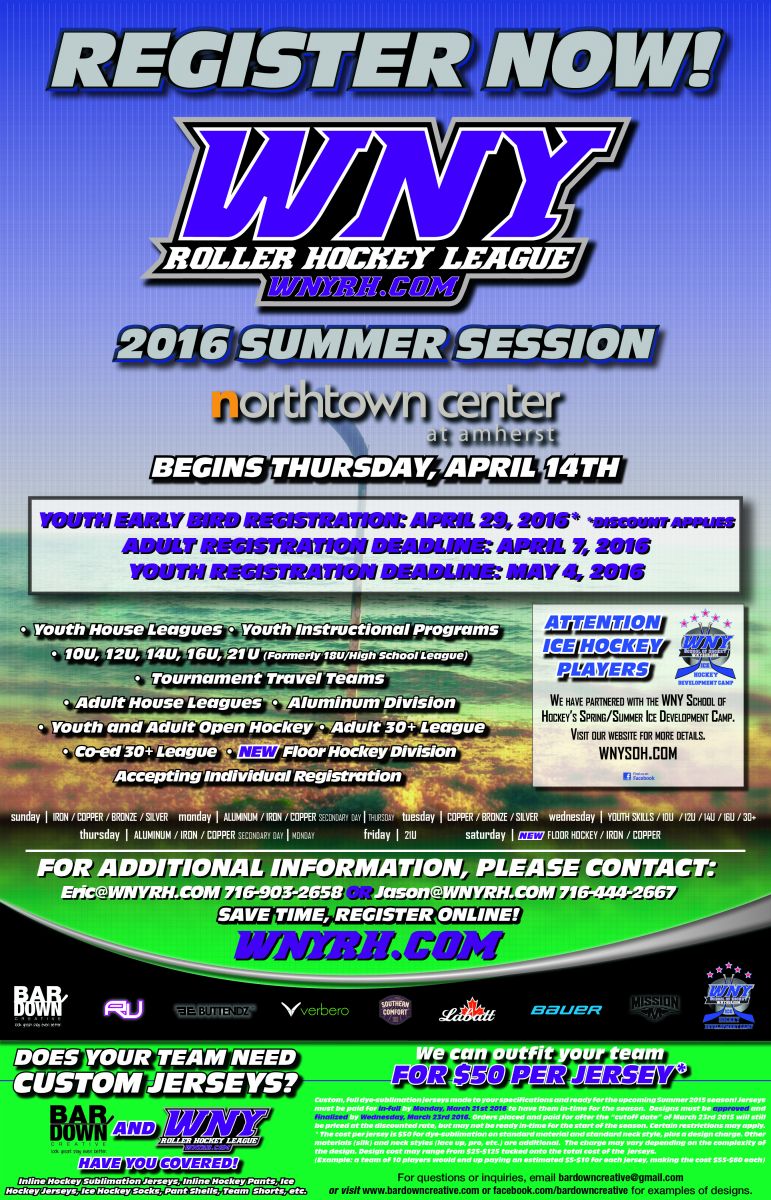 Summer 2016 Floor Hockey League (ALL NEW)
Summer 2016 30+ Co-Ed League Info
Individual Registration Form (Youth League, Women's League, or Individual Registration for 21u, Adult or Ball Hockey League)
We look forward to seeing you all this Summer for some great WNYRHL action! Please call or email Eric Haak - [email protected]/716-903-2658 or Jason Flowers - [email protected]/716-444-2667 with any questions or to register by phone.
2016 Winter Session @ The Kenan Center
Our 2016 Winter Session will begin at The Kenan Center Arena on Monday, January 4th. We are very excited to announce our ALL NEW 12 Game Season! Space is extremely limited so Register Now! We strongly encourage you to use our Online Registration system! It is currently set up to register 30+ Players, Youth Skills N Drills Players, Individual Players looking for teams and Team Captains only. Please CLICK HERE to register online Click on the links below for more information on our Winter 2016 offerings!
2016 Winter Individual Registration Form
2016 Winter Team Registration Form
2016 Winter Session League Rules
Please see below for complete details on our offerings.
Open Hockey
Open Hockey will return Summer 2015! Please check our calendar for dates and times.
We are offering Open Hockey for FREE to all of our WNYRHL members throughout the summer!
Please check our
Rink Schedule
below for the occasional blackout date or time change!
Every player must sign in prior to every Open Hockey session before stepping onto the floor. In addition, each player will need to fill out a membership form. Once you have participated in Open Hockey or our leagues, your information will be stored into our database and you will no longer need to provide us with proof of membership.
Don't worry if no goalies show up - you will never be without a goalie again, as the the WNY Roller Hockey League has hired a goaltender to be on duty 24/7! Check
http://www.rick-o-shay.com/
for full details! No goalies, no problem as we have 2 rick o shays in stock to make every scrimmage game as competitive as ever!
Rink Rental Information -
$85.00 for WNYRHL Members
Private Instructional Session for Youth or Adults -
Skaters
*Please contact Eric Haak at 716-903-2658/[email protected] to book

Goaltenders
*Please contact Jason Flowers at 716-444-2667/[email protected]
If you have any questions, or would like to book a rental, please contact 716-903-2658 or [email protected].
Our 30+ League is intended for Beginner to Intermediate players who are looking to skate in a fun, relaxed environment. The 30+ Skate League takes place on Wednesday evenings throughout the Summer Months (please check rink calendar for the occasional Monday off).
We have many different Adult Leagues and Divisions, with individual or team registration available.
Our beginner level, those with little or no inline hockey experience, is the Aluminum or Iron Division, while the Copper Division is for those who have at least one year of consistent inline play.
All individual registrations will be placed in the Iron or Copper Division. The Bronze Division is considered our intermediate division encompassing a wide variety of talent in a moderately competitive setting. Our Silver Division is our superior division, for those with seasoned skills looking for an ultimate competitive experience. Finally, our Gold Division is for the elite level player seeking intense competition.
Most divisions offer multiple nights to play on; please review our "doc" section on the top of this page for registration information. All games are 3, 15 minute periods (run clock) with each team getting one time out. If the game is within 2 goals in the last 2 minutes, we switch to stop clock. If the game ends in a tie, we proceed directly to a 2 minute 3 v 3 OT period, if still tied we will then proceed to a 3 man Shoot Out.
All games are entered into a live, web based stat system easily access on our website for individual tracking of game play. At the end of each session, the 1st and 2nd place teams will be awarded prizes, with individual award recognitions handed out throughout the duration of the session.
Please contact [email protected]/716-444-2667 or [email protected] /716-903-2658 for more information on our Adult Offerings!