Thank You!
September 10th, 2009 at 3:24PM
September 22nd, 2009 2:27PM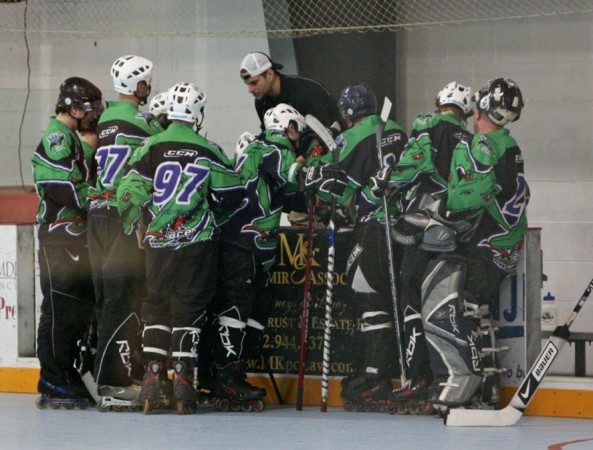 ---
Thank You
The Buffalo Wings Roller Hockey Organization would like to thank everyone involved in our greatest summer ever! From the players to the coaches and everyone along the way, this summer would not have been nearly as special without your dedication.

Thank you to all of our travel team coaches that helped to make this our biggest and most successful year on all of the tournament series in the history of the Buffalo Wings. Our presence was felt in each and every tournament and this is the start of a legacy that we plan to build on for many years. Thank you for helping to make us a serious force in each and every division.

A special thanks to Chris Ciamaga for giving us great officiating the entire season with his crew of professionally experienced referee talent. Your constant professionalism throughout the season helped to give our leagues the extra edge of competitiveness that makes the Buffalo Wings the best.

We would also love to thank all of our sponsors for supporting us and helping us to grow into an organization that is able to offer more than the typical house league. With all of your support, we are able to provide our free camps, prizes, and all the other extras that separate us from the rest. Thank you all!

To Great Skate, Revision Hockey, NARCh, Mission Hockey, Projoy, and USA Hockey Inline a special thanks for providing us with extra prizes for our House League "Players of the Month." You helped to make this season extra special by allowing us to offer awesome prizes to the league's best players, once again, setting us apart from the rest.
Thank you to Steve Bennett for his hard work on the Buffalo Wings podcasts. The podcasts were a great way to stay informed with Buffalo Wings Hockey. Thank you to Steve Wright for all of his hard work. Steve vollunteered a lot of his time to the organization and launched the Buffalo Wings Television Network!
Also, a colossal thank you to Gina and Wendell Smith for all of your help with the youth program. We all know the time and dedication you put in to helping our youth and "Learn to Play" program get off the ground and to grow into what it has become. You are truly helping to lay the foundation for the next batch of great roller hockey players for years to come. DJ Boombastic also deserves a round of applause for his time and efforts this season. He brought so much life to the rink with his presence.
And last but not least, THANK YOU to all of our players and teams that make our House Leagues what they are. Without you and the excitement you bring to the rink each and every game, we would not be where we are today. You allow us to do what we do and make this the greatest roller hockey organization in the country. Your commitment to us never goes unnoticed, and we hope that we helped to return the favor to all of you this summer. To those of us that won't be joining us at the Kenan Center in Lockport, we'll see you next summer!

Thanks again!!!