Haak's Blog 1 and 2
October 26th, 2009 at 4:51PM
November 3rd, 2009 6:09PM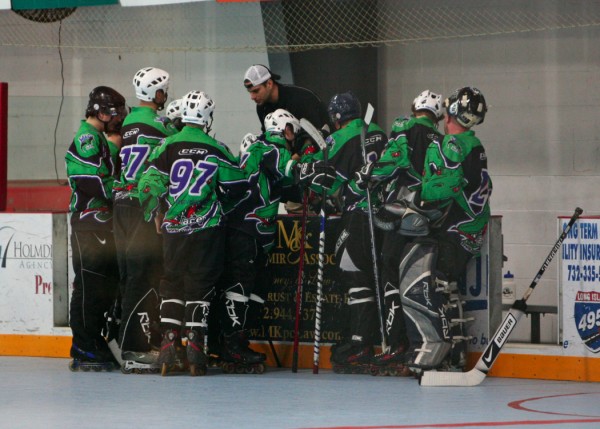 ---
BLOG #2
As I stated in my previous blog, Gold's Gym is a safe bet for the Tuesday League Championship! Well, after a close game last week against Tripping Billies, we are facing off tonight against Tyler Walser and the Lord's of the Rink in the Championship. Gold's is going to have to overcome a huge loss as superstar defenseman, Jeremy O'neill is out of the game - he had an emergency appendectomy 3 days ago. Not only is this a HUGE loss to us, but this leaves us with only 4 guys. I welcome the challenge of trying to defeat such a solid team with just 4 guys. The team is myself, Bryan Dudziak, Nick Guagenti, and Mark Dudziak. This is a big game for Mark as he is fairly inexperienced at this high level of play, with this being his rookie season. I think his desire to win, hard work, and a mental injection from me will have him playing just fine. My prediction - If we can stop Walser, we win.
Monday Bronze - The Vekhaak Legends finished the Monday Bronze league with the #2 seed. This meant a match-up against the underrated Swoop Daddies. Again, without superstar defenseman Jeremy O'neill, this was going to be a tough game. The Legends took the lead early on a nice wrist shot by Haak and an even better pass from the reborn Brian Wasik. Shortly after Ryan Perkins from Swoop scored on a slapshot from the slot. It was a powerplay goal and we were all tied up at 1. This was about the only highlight of the game for Swoop. The Legends stepped up and scored 5 unanswered goals and controlled the puck an estimated 85% of the game for a 6-1 win. At one point we had the puck for just about 6 minutes straight. It felt very good to be so disciplined and dominant. It was very comparable to the New York Yankees in a sense. When they get a lead late in the game, they throw in Rivera. When we get the lead late in the game, we play as a team and eat clock. I look at it like this...... We are up by 3 goals with 7 minutes left in the game.... Why in the world would we get into a run and gun match and allow them to possibly come back? To me, that makes no sense. With our skill and chemistry, we are much better off just eating clock and playing it safe to protect the lead.
The Monday Semis are all set - Top Scorer Steve LaTona and Watsons Wish list will face off against Russel Lee Folga and Jimi Things. The other semis will feature the some of the all-time greats as the Vekhaak Legends face off against Ryan Setlock and the Myspace Predators (farm club for the Facebook Stalkers). It should be some great action next Monday at the luxurious Kenan Arena! My prediction is it is going to be quite a Legendary night!
Signing off and somehow someway in love with playing hockey again -
WOOOOOOOOOOOOOOOOOOOOOOOOOOOOOOOOOOOOOOOOOOOOO
BLOG #1
As the new web site begins to take shape, many people are asking what happened to the blogs? Well, we are just getting everything situated right now, the blogs will be back soon! Everyone seems to really like the new stat system, which tracks games live and also provides a 3 star award at the end of every contest. People love awards, so you can never have too many.
We are currently in the quiet time of year for Wings. Playoffs are just starting for our Fall session at the Kenan Center, and the competition is awesome! I haven't enjoyed playing hockey this much in quite some time. The Tuesday league is a complete battle every week, and as we come down the stretch any of the 4 teams could take the Gold! If you're looking for the safe bet, you would wanna take Gold's Gym, as their power, discipline, and desire to win could be too overwhelming for most come playoff time. The Monday League is also tough with Watson's wish list looking to complete an undefeated season tonight when they face off against the Excitement.
Behind the scenes, we have had a few staff meetings to prepare everything for Pepsi Center 2010. We will have our brochures and documentation out by December 1st. All information for our leagues, including our Learn to Play and Beginner programs will be available at this time. I think everyone is going to love some of the changes we have made. Our Travel team info may be a week or two behind, as we are waiting for the Torhs and Narch regional schedules to be released.
Signing off as competitive as ever -
woooooooooooooooooo