In-line Hockey: Not Just a Drive Way Sport
A look at the rise of roller hockey by Justin Smith
November 5th, 2009 at 4:59PM
November 6th, 2009 2:20AM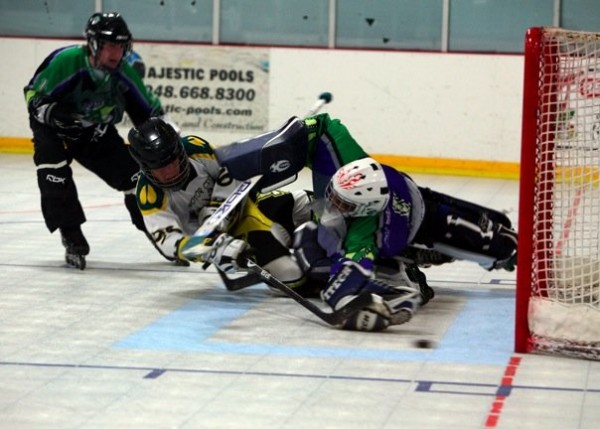 ---
"In-line Hockey: Not Just a Drive Way Sport"
When I tell people I play in-line hockey, also known as roller hockey, I usually get the "Oh so you just like play in your drive way with your friends or something" response. Well I don't. In-line hockey is a real sport with youth leagues, tournaments and believe it or not they even have professional in-line hockey. In fact on August 30th there was a professional in-line hockey game scheduled to be aired on Versus. (The acronym for professional in-line is MLRH [Major League Roller Hockey]) However, due to some production difficulties it was never aired. The video was on the Buffalo Wings website, www.Buffalowingshockey.com, but was recently removed from the site. The game was between our hometown team, the Buffalo Wings (yes Buffalo has a MLRH team), and the Florida Fusion. As a quick note on the Florida Fusion, they had Itan Chavira, an outstanding in-line player who has numerous videos you can check out on www.youtube.com. Buffalo Wings won the game seven to five, in case you were wondering. I play in-line hockey as I mentioned above, obviously not professionally, but I play in different local youth and adult leagues. Over the summer I was playing at the Amherst Pepsi Center as goalie for a fourteen-and-under team and I played a few games in the sixteen-and-under league as well. One of the games I played in sixteen-and-under was for a man some of you may know: Mr. Rauh. Mr. Rauh coached a team in sixteen-and-under composed of kids who go to North High school. Also, Mr. Rauh plays as an in-line goalie. Yes, that's right, Mr. Copious himself is a goalie for in-line. There are a lot of students at North that play organized in-line hockey. There are also a lot of kids at North who play tournament in-line hockey -both local and travel teams. I played in a fourteen-and-under tournament over the summer and went to Detroit, and Mississauga. It was a NARCH tournament. (NARCH stands for North American Roller-Hockey Championships) Many other teams from Buffalo went as well. A lot of us were playing for different Buffalo Wings teams, but BIHG (Buffalo In-line Hockey Group, www.BIHG.org ) also had a fourteen-and-under team. My team came home with a Bronze medal in the club level for the finals. We also received a silver medal in the Regional qualifier at the Pepsi Center.
It's possible that by now some of you are wondering what the difference between ice hockey and in-line hockey is, other than the difference in playing surfaces and skates. Well I'll tell you. There is less equipment needed for playing forward or defense, just shin guards, elbow pads, gloves, helmet, stick, and a pair of skates. Secondly, it is played four-on-four plus one goalie per side. Also there are no off-sides or icing calls. This means far fewer whistles and a more wide open game, and in a lot of cases, more high
scoring. However the thing I like the best (I know a lot of you might not agree with me on this but hear me out) there is no hitting. If you check (hit) someone it is a two minute penalty. The reason I like this rule is because it is easy to get injured when you are getting hit onto the hard floor tiles. Also it encourages more skilled defensemen to have to use your stick rather than body to stop the rush. Another difference is, games are played three fifteen-minute run time periods. This means that the time never stops running; it keeps running during a whistle. The clock will only stop if the game is within two goals with two minutes or less left to play in the third period. Since the time keeps running, if you get a penalty and it expires during a stoppage in play, you have to wait until the face-off to leave the penalty box. Some leagues have slightly different rules about time, for example the BIHG league (Which plays at the Epic Center located on Wehrle Dr.) pee-wee division is three fourteen-minute run time periods. But at Kenan Center in Lockport and the Amherst Pepsi Center, which are both run by the Wings organization, all games for all age divisions are three fifteen-minute periods. One other big difference, is that the pucks are much lighter, meaning faster shots and faster passes.
The MLRH game, strangely enough, was somewhat different from the rules I have described. The only differences were that you could not pass the puck over the center line (there are no blue lines just one line in the center and the goal lines), or it was called off-sides, and there were four twelve-minute quarters. However, that was the only time I ever saw an in-line game played by those rules.
However in-line is not totally different from ice, in fact it isn't uncommon for a player to play both in-line and ice. The in-line players and the ice players who play in-line are equally good in my opinion. Some people seem to have the misconception that people who play in-line aren't as good as those who play ice; but I would disagree.
The only thing I will say is, I think in-line needs to change the rule that goalies aren't required to wear skates in house leagues. I have played in all different levels as a goalie, (twelve-and-under, fourteen-and-under, sixteen-and-under, and adult bronze league) and I have noticed at all levels, there are more goalies in shoes than in skates. (Except at BIHG where all youth league goalies wear skates.) There are two main reasons I think this needs to change. One, it doesn't look right. Maybe it's just me, but I don't think it looks proper to see all the players skating around and then the goalie running around the rink. The other reason is it's a safety hazard. Over the summer there was a goalie in a fourteen-and-under league that broke his toe during a game while wearing shoes. There are two other, less important reasons; the first is, if you want to play in a tournament you have to wear skates. Some people don't want to play in t
ournaments so this would not apply to them. The second reason is, I think it makes you a better goalie to goalie in skates. I think this because it makes you faster, and makes it easier to slide from post-to-post.
This leads me to my final point: misconceptions. One misconception is that as an in-line goalie you can't slide around in your crease. This is definitely not true. While it will take some practice, it is easy to slide in the crease and I've had to slide across the crease to make countless saves. The second misconception, which I have no idea where it came from, is that you can't stop on in-line skates. Again, you'll have to practice but a lot of people who have been around the sport know how to stop on skates. In the regards of skating and goaltending, in-line and ice are the same, you can slide in the crease and you can stop on skates. By the way, I don't mean stopping using the stoppers that you find on some of the more basic skates, I mean you can stop just like you would stop on ice skates. (True in-line hockey skates don't have stoppers anyway.)
After all of that, I am left with one question. Why are there no school sponsored in-line teams? I have talked to some of the in-line hockey players in this school and almost all of them said that they would join a team if the school had one.
So the next time someone tells you they play hockey, ask which kind. Also, the next time I say I play in-line or any of the numerous in-line players in this school say they play in-line to you, don't say "Oh so you just like play in your drive way with your friends or something." In-line is a great sport and I would encourage anyone interested to sign-up for a league at either the Pepsi Center/ Kenan Center with the Buffalo Wings or the Epic Center with BIHG. (for more information on these leagues visit their websites stated in the article.) Who knows, maybe one day you'll be in a NARCH tournament or even the MLRH.
- Justin Smith