Myspace Predators take home the GOLD!
November 10th, 2009 at 5:32PM
November 10th, 2009 5:53PM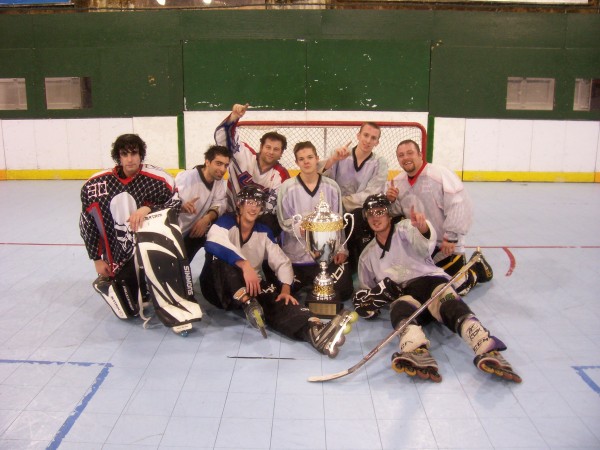 ---
The first game of the evening was 6-0 Watson's Wish list facing off against Jimi Things. It was a great game throughout, with both teams very vocal and enthusiastic with so much at stake. Deep into overtime Russ Folga ripped a slap shot, top shelf to put Jimi Things in the finals. After the game I asked Mr. Folga what he attributed his goal to and he simply said "I took an extra scoop of protein before the game and spiked it with some new glutamine powder". Jimi things had one of the spots in the Championship.
The other semifinal game would feature Myspace Predators against the infamous VekHaak Legends. The Legends were on a 5 game winning streak and almost looked unstopable. That is until they met the Predators. The Predators beat the Legends at their own game. The Legends played sloppy throughout, with the Predators capitalizing on the many mistakes that the Legends made. In the end the Legends fell 7-5. In this game, the Legends were merely a bunch of has-beens, as they were not able to execute the game plan and could not overcome the unforced errors and mental mistakes.
So we were set to go in the finals - Myspace Predators vs. Jimi Things. Jimi Things took a commanding lead early, but Myspace would not give up. They pulled within a few goals when the unthinkable happened. Russ Folga lost his cool and was ejected from the game for attacking a Predators player. This was the beginning of the end for Jimi Things. Myspace took complete advantage of Russel's absence, scoring again and again. Final score Myspace Predators 9, Jimi Things 7.
Congratulations to the Myspace Predators for their Championship victory. The new Monday Bronze season starts next week and should be another great one. Thank you to all the teams that particpated in the 2009 Fall Session.