Thomas McCollum Preserves Shootout Win
Former Wings goalie Thomas McCollum had 40 saves against the Lake Erie Monsters
December 14th, 2009 at 1:40PM
December 14th, 2009 8:36PM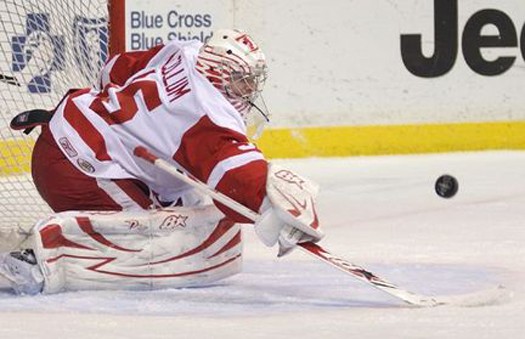 ---
December 11, 2009, 11:30PM


GRAND RAPIDS -- Coach Curt Fraser was confident the Grand Rapids Griffins would win heading into Friday night\'s shootout with the Lake Erie Monsters. Mainly because he has goaltender Thomas McCollum on his side.

After stopping a career-high 40 shots in regulation and overtime, McCollum stopped five of the Monsters\' six shootout attempts to help the Griffins secure a 4-3 shootout win at Van Andel Arena.

"He won us the game tonight," Fraser said. "He held us in it for so long, he kept the game close."

The Griffins struggled in the shootout until Evan McGrath converted in the fifth round. Tomas Tatar then gave Grand Rapids a 2-1 lead in the sixth round, and McCollum denied Lake Erie\'s Brandon Yip to preserve the win.

McCollum, who is 2-0 in shootouts this season, said facing so many shots in regulation helped him stay ready for a shootout.

"You play better the more shots you see," said the rookie, who turned 20 Monday. "It kind of keeps you in the game, you don\'t get cold standing there for long periods of time."