Buffalo Wings Pros collect awards!
Vincent Scarsella, Kyle Kozlowski, Cory Conacher
January 20th, 2010 at 1:33PM
January 20th, 2010 6:42PM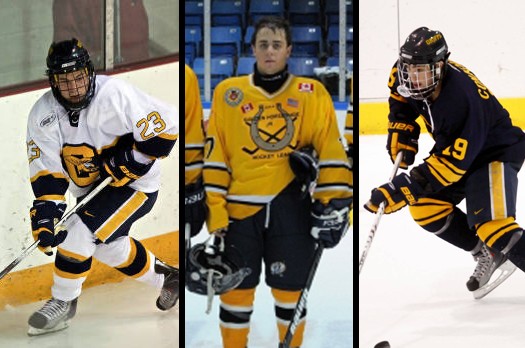 ---
Vincent Scarsella
The Canisius College and Army hockey teams both tallied three power-play goals en route to a 4-4 draw at the Buffalo State Sports Arena on Saturday night. The Griffs are now 11-10-3 on the season and 9-7-2 in Atlantic Hockey play, while the Black Knights stand at 7-11-4 and 6-7-3 against league foes.
"We showed a tremendous desire to win tonight," said Canisius head coach Dave Smith. "Just Owen Meyer and their power play were too good. The power play was the story of the game tonight. We had a great stretch in the second period that got us back in the game and then they answered back with two goals."
Senior Jason Weeks netted one of the Griffs\' power play scores and in the process tied the program\'s Division I record for career scores. Weeks and former Griff David Deeves (1998-02) are tied for the most career goals in school history with 49.
Junior Vincent Scarsella led Canisius with three points, scoring a goal and adding two assists. Senior Josh Heidinger and freshman Preston Shupe also added a goal, while junior Cory Conacher registered two assists. Vincent Scarsella was also named 1st star of the game.
Sophomore Dan Morrison recorded 34
Kyle Kozlowski
Kyle has been on a tear lately as he has racked up 21 goals and 32 assists for his Wheatfield Blades team. He is a loan bright spot for a team that has struggled all season. Kyle was named to the GOJHL All Star game where he contributed 3 assists in a 12-9 win.
"Koz" will be traveling with the Revision Buffalo Wings Pro team next weekend to participate in the 2010 Torhs WinterNational Championships. Good luck to Kyle and his team.
Cory Conacher
The nation\'s leading goal scorer, junior Cory Conacher earned Atlantic Hockey Player of the Week honors on Monday after leading the Canisius College hockey team to a 1-0-1 week.
In two games against Army, Conacher recorded five points, two goals and three assists. He posted three points in the Griffs\' 5-2 victory, scoring a pair of goals and adding one assist. Conacher then followed with two helpers in the finale, including the primary assist on the game-tying goal with 7:07 left in regulation.
Conacher registered his 10th and 11th multi-point games of the season during the weekend. He has recoded at least one point in his last 12 games, the longest streak by a Griff since the 2001-02 season. Conacher has not been held off the scoreboard since Nov. 15 and has recorded 25 points during the 12-game stretch. In total, he has posted at least one point in 18-of-22 games this season.
As a junior, Conacher has amassed 36 points, 17 goals and 19 assists. He currently ranks first nationally with his 17 goals, second with 36 points and 10th with 19 assists. He also ranks first in the country with five game-winning goals and 24th with five power-play tallies.
In 79 career games, Conacher has totaled 88 points, 36 goals, 52 assists, 11 power-play goals and eight game-winning scores. The junior was also named the Atlantic Hockey Player of the Week earlier in the season after recording his first collegiate hat trick at Lake Superior State
Conacher and the Griffs return to the ice on Friday, beginning a two-game set against Sacred Heart.