Buffalo Wings to host Inline Marathon!
Next Meeting is June 19th at 1pm
May 21st, 2010 at 11:05AM
May 24th, 2010 3:04PM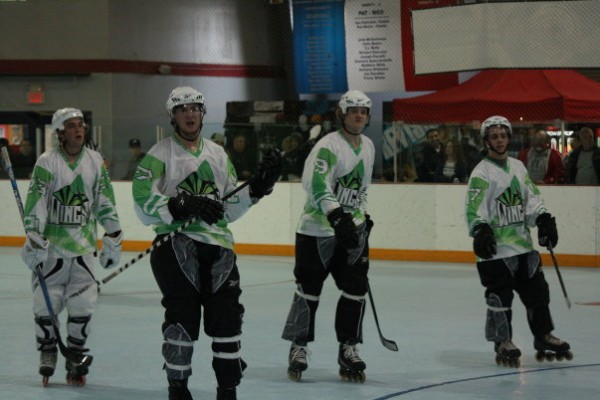 ---
The Buffalo Wings 2nd meeting was held Saturday May 22nd at the Amherst Ice Center. A 3rd meeting is scheduled for Saturday, June 19th at 1pm. Please meet at the Feature rink scoreclock.
Hello Everyone,
Just a summary update after Saturday's (5/22) meeting.
I was nominated to be the Chairperson of the event and after being 2nd and 3rd, I accepted.
Tracy Fitzsimmons will be the Coordinator between Buffalo Wild Wings and Roswell Park. (once the event has been approved by Roswell)
Steve Wright will help with soliciting sponsorships or donations from Buffalo Wild Wings' vendors (* see notation about donations below in red)
Carolyn Angstenberger will be the event Treasurer, with myself as second treasurer. Carolyn will coordinate opening a bank account with a local bank.
Carolyn will also be the Coordinator of Donations, letters, pick up of items.
(* see notation about donations below in red) We will have to recruit a small committee to help with donations.
Kristen Chilcott (a guest of Carolyn's) will assist with the event's printing needs (program, banners, flyers, etc)
Unable to attend was the gentleman from Kohls (dave or dan) who was going to help coordinate donations from Kohls and the mother/son pair (mary and ryan?) – who may be willing to help coordinate the theme tray basket donations from each team. If both of you could please contact me (email or phone –
[email protected]
or 512-0931) to confirm if you still wish to help coordinate these areas. Thank you.
Thank you to the players that attended, (if I have them correct) Kevin Drum, Randy Krupski and Keith Piatek and for your input.
Thank you also to Fred Angstenberger and Corey Clark.
Gina and Wendell Smith – thank you for taking time to attend the meeting while trying to staff the booth at the same time. Please feel free to contact me as we did not have a chance to talk.
EVENT INFO
The event date was chosen and will be from 10am on Saturday, November 6 until at least 1pm Sunday, November 7th (will continue hour by hour depending on players and the flight time for the adjudicator for Guinness) at the Kenan Center
**side note – should we check with Guinness and see if there is inclement weather in either city and the adjudicator can't arrive in Buffalo, will they reschedule for the next weekend? What is Buffalo Wings backup plan if the adjudicator can't show?
Starting at 10am will allow for set up to start around 7am or 8am depending on what other activities/food we decide to also have.
There was discussion on how much each player should be charged to play in the event – the final decision was a $50 registration fee and then to try to collect pledges or donations from friends, family, coworkers, etc. Should we have a prize for the player that raises the most pledges/donations, as an incentive. We will also check with Roswell to see if they can assist with links for donations.
How to pay for the Guinness Adjudicator was also discussed. Fred, Mike's brother said he would talk to his employer Admar and see if they would donate any money towards it. This lead into a discussion regarding sponsors and different sponsor levels and how would we 'promote' their sponsorship – logos on uniforms, banners, name on literature, listing in program, etc. Still need to work on sponsorship levels.
We set our next meeting for Saturday, June 19th at 1pm – pending the approval of Roswell and their Executive Board for this event.
My first task as Chairperson was to read the literature Mike A. forwarded to me from Roswell and Guinness.
I will need to talk to Mike and/or Eric for some of the information needed to complete the form.
I have copy and pasted the main guidelines from Roswell
Any event or promotion seeking to use the Roswell Park Cancer Institute name and Team Cure name and/or logo must have approval of Executive Board. Usage of the Team Cure logo must comply with graphic standards.
Before soliciting businesses or individuals for sponsorship, please contact the Team Cure Coordinator at Roswell Park Cancer Institute with a list of companies you would like to approach. Many corporate relationships are established with local companies and businesses. We ask that before approaching any businesses, contact the Team Cure Coordinator first so as not to jeopardize our relationship with these donors.
Organizer(s) must agree to hold harmless and indemnify Roswell Park Cancer Institute and Roswell Park Alliance Foundation from any liability arising from the event and sign the attached liability release and indemnification agreement with completed application.
Roswell Park Cancer Institute and Roswell Park Alliance Foundation cannot ensure staff or patient ambassador representation at an event. Determination for representation will depend on availability and date of event.
If for any reason event plans change, please notify the Team Cure Coordinator at Roswell Park Cancer Institute immediately. If your event is cancelled, please return any materials and/or merchandise provided to you.
The main contact person listed on initial application must ensure that all necessary permits, licenses and insurance are obtained.
Roswell Park Cancer Institute/ Roswell Park Alliance Foundation CANNOT Provide:
· Tax exemption
· Gift recognition letters or letters noting a tax deduction
· Insurance or liability coverage
· Funding or reimbursement for expenses
· A mailing list of donors or vendors
So needless to say I have some concerns after reading the guidelines and I will be calling Roswell for clarification especially with regards to the donation section.
If we do need to submit all companies first, I will need each person to forward to me companies names/addresses and I will include with my list.
Once we have the green light from Roswell, I was wondering if the Buffalo Wild Wings website can advertise for sponsors. Keep it brief, until sponsorship levels and details are finalized but I think we could still ask "if anyone knows of a company/business that would be interested in becoming an event sponsor or in making a donation – please contact (committee name) for more information" That way – we can follow Roswell's guidelines of checking with them first.
***********************************
If Eric, Mike or Steve (or anyone else) can also provide me with any other anticipated/estimated event expenses that would be appreciated. (rink rental, referees, port a potty, uniforms, rink employee(s) the day of the event, event entertainment, event food/drink, printing costs, mailing costs, security, athletic trainers, etc). These expenses are needed both for Roswell as well as when soliciting sponsors. We need to show perspective sponsors what our costs are – doesn't matter if later down the road we get items donated, as of now they are expenses. Does the organization have any funds designated for this event?
I was also thinking – that since we need a "number" for Guinness in terms of funds we have available for the adjudicator – what if we use the Player Registration fees toward that expense. $50 a player * 32 players = $1600.
Without committed players there is no event, and without an adjudicator there is no event. They go hand in hand. And the players/organization are the ones that will be recognized in the Guinness World Book of Records. A company or sponsors would not be recognized.
Please let me know your thoughts so we can advise Guinness as soon as possible. Thank you.
If anyone has any other comments or info I may have missed/not included, please feel free to contact me via email or phone.
716-512-0931 cell phone
Thank you for your time and commitment to this organization and fundraiser.
Sincerely,
Cheryl Walsh
The Buffalo wings had their first meeting last night for the Roswell Park benefit. Things went very well as many ideas were kicked around. We will do a follow up meeting May 22nd at 1pm. Please meet at the Feature rink scoreclock.
WINGS TO MAKE RECORD ATTEMPT FOR ROSWELL PARK CANCER INSTITUTE
The Buffalo Wings Roller Hockey League is about to undertake an exciting 'ROLLER HOCKEY MARATHON' Guinness Book of World Records attempt to benefit Roswell Park Cancer Institute. We are seeking the help of anyone interested in participating, either through; volunteering, playing, donating, or pledging. The current record now stands at just 24 hours and has been so since 2002.
We feel this will be a great way to raise money for the Premier Cancer Research Center in Western New York. If you or anyone close to you has ever had to experience the hardships of a battle with Cancer, or if you just want to help join the fight against Cancer, please take the time to join us for an organizational meeting on Friday, April 23 at 7pm.
Everyone will meet at the Amherst Ice Center's Feature Rink score-box and then head to one of the meeting rooms upstairs. Any help will be appreciated as we will need plenty of volunteers throughout the event. Thank you from the BWRHL for your support of RPCI and the fight against Cancer.
Please feel free to contact Mike Angstenberger at
[email protected]
for further details or any questions.