State Wars New York Tryouts!
May 1st and 2nd at Rapid Fire Arena in Moriches, NY!
April 3rd, 2010 at 1:21PM
April 15th, 2010 12:45AM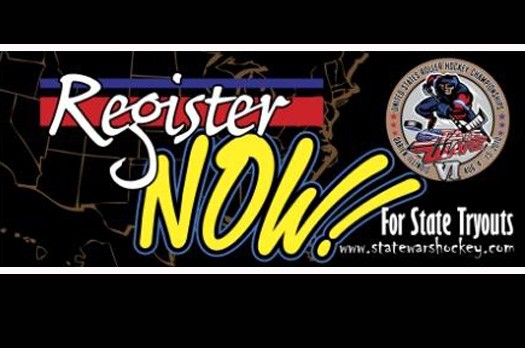 ---
To all

New York

players and parents,
The 2010

NEW YORK

State Tryouts are less than a month away ! If you or someone you know is looking to tryout for TEAM

NEW YORK

and represent their home state at one of the BEST hockey events in the world, then they need to REGISTER NOW for their state tryout.
The

NEW YORK

state tryout is being held on

May 1-2

at

Rapid Fire Arena in Center Moriches

. Tryouts for ALL ages ranging from 2004-1992 will be held

this weekend

. Each tryout is only two hours long.
Players selected will play during their 3-4 day block at State Wars, held August 4-15th at the Darien Sportsplex in Darien, IL. The Darien Sportsplex has 4 NHL sized rinks and will be an awesome home for State Wars VI.
What you NEED TO KNOW about TRYOUTS:
All tryouts are RISK FREE. Yes if you attend the full tryout and are not selected you receive an entire refund of the tryout fee. All players receive a free State Wars practice jersey.

All tryouts are run by the State Wars Hockey staff. Yes State Wars Hockey brings in evaluators from out of state who are unbiased and not involved with local organizations!

Two teams may be selected per birth year, so you have a chance to be selected for the AAA/AA or A level team (as long as their are enough players to field both)

A total of 8 skaters are selected per team

We look to select only 1 goalie per team. If two goalies at tryouts are equal then and only then may we select two. If that is the case, the player fee will be reduced
What you NEED TO KNOW about STATE WARS:
State Wars is one of the best hockey experiences that your child and family will ever have. Just ask someone who has attended in the past

Each team is guaranteed to play in a minimum of 5 games at the event

Divisions are based on single birth year, so you never have to play against older players

Players may ONLY play for their home state or province, so no "super powered sponsored" teams with players from all over the US can compete, making for a level playing field

Each player will receive a custom set of Team

NEW YORK

home and away jerseys and a pair of custom State Wars Hockey pants

There are many extras at the event, including : Award Presentations, All Star Games, Team North America selections, Skills Competitions, Gold and Bronze Medal Games etc....

Great Prizes : MVP's win skates, High Scorers win sticks, Best Defensive Players win gloves, Most Valuable Goalies win bags and much more...

State Wars is the most geographically diverse event there is with teams from over 25 states and 4 provinces participating

State Wars is sponsored by Mission, Tour, Warrior, Valken, Revision, Labeda, Rink Rat, Rocket Puck, Projoy, Wicked Biscuit, Twig Magic, USA Clinics, Blade Tape, Mateflex, Great Skate, and RHA.

(12) $1000 College Scholarships are awarded in the 1992 Division this year!
Tim McManus
National Director State Wars Hockey
516.377.5957
I would prersonally like to encourage everyone to make these tryouts! Tim McManus runs a great event. He puts a ton of time and passion into making it the best of his kind. State Wars is unlike most tournaments. It offers a different type of competition and a different type of team bonding. You will definitely have the time of your life! State Wars is competitive Roller Hockey at it's finest but is also a lot of fun!
Eric Haak
Buffalo Wings Roller Hockey