All Pro Science Supplements
Buffalo Wings partner with Tony Gonzalez and All Pro Science!
March 26th, 2010 at 9:58PM
March 29th, 2010 5:16PM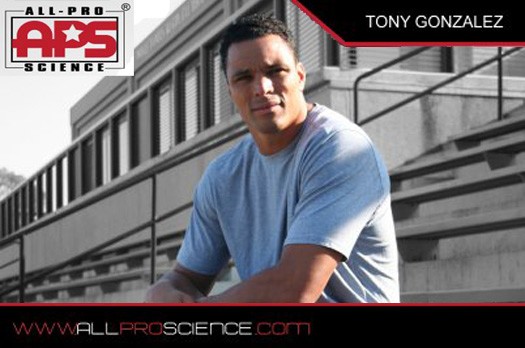 ---
The Buffalo Wings are proud to announce a new partnership with an up and coming supplement company owned by Tony Gonzalez, yes, the All Pro, All World NFL Tight End Tony Gonzalez. The supplement line offers only all natural supplements, including a Vegan Protein powder, a Grass Fed Whey protein and a Complete Recovery formula with a 3:1 carbohydrate to protein ratio. All Pro Science also offers an Immune-D supplement derived from Acai and Goji berries, which is intended to keep the immune system strong, with a multi-vitamin coming soon. In addition to the supplements, they also provide a complete relief liquid roll-on muscle and joint pain reliever.
"Tony Gonzalez is the best tight end in NFL history, and I am extremely excited to be working with his company. Given his 14 year run in the NFL and still going strong, he obviously has fueled his body with the necessary nutrients to maintain this All Pro level of play. I, like Tony, have chosen to fuel my body with all natural products to further enhance my well-being, which is why I solely rely on All Pro Science supplements," says Wings Pro Head Coach Eric Haak.


The deal will allow All Pro Science and the Buffalo Wing's to offer each of its participants, their friends and family to enter a code into the All Pro Science web site and obtain 20% off of their purchase. The Wings will also be using All Pro Science water bottles and towels at all major tournaments to help promote the product. Furthermore, the pro players will begin using the Complete Recovery formula following every game and practice to re-nourish their bodies and Complete Relief to help heal muscles and joints.