Important Information Summer 2010
ATTENTION ALL TEAMS AND PLAYERS PLEASE READ!
April 24th, 2010 at 11:25PM
April 25th, 2010 12:26PM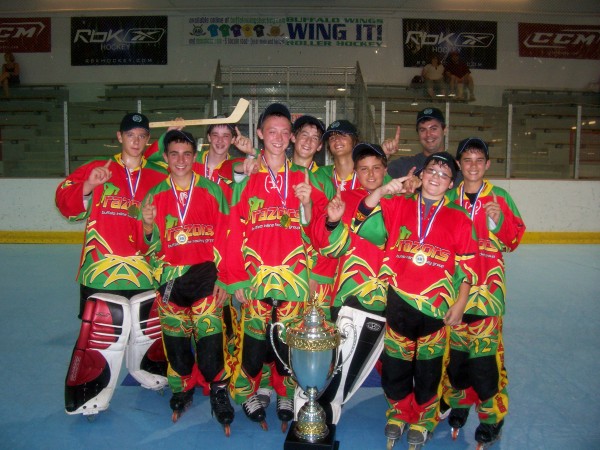 ---
Hello Everyone! We are very excited to start the 2010 Buffalo Wings Summer season as you have all helped us to reach the biggest summer in Buffalo Wings hockey history! We are currently at 112 teams with the possibility of a few more youth teams joining; this far surpasses any previous Wings summer!
Here is a guide of what to expect prior to taking the floor for game 1. Please arrive at least 30 minutes before your first game. Each player needs to pay their $100 deposit AND $30 for USA Hockey Inline insurance. You can pay the $100 in cash, check or credit, with all checks being made out to Buffalo Wings Hockey. You can obtain USA hockey insurnace a few different ways..... 1) Click
here
and sign up online. Once signed up, please print out the confirmation slip and bring it to the rink for us to scan. 2) We will give you a form to fill out and you can pay with cash. 3) We will give you a form to fill out and you can pay with a check - ALL CHECKS NEED TO BE MADE OUT TO USA HOCKEY INLINE, NOT BUFFALO WINGS HOCKEY. Any players that play at multiple rinks in the area that also insure with USA Hockey Inline, you MUST bring in proof of membership. If you do not have proof of membership, you will have to immediately purchase through us or will be unable to play until we are provided with necessary information.
The Buffalo Wings will be providing each team with a set of free league jerseys, however you are not obiligated to wear them. If you choose to wear your own team jerseys, it is imperative the enitre team wear a matching jersey, THIS INCLUDES substitute players. We will have extra league jerseys on hand for substitute players should they be needed. Because our jerseys are made available to you for free, your individual fee will not reflect any deductions should you choose to wear your own jerseys.
New this year, we will be introducing the Buffalo Wings Player Card; by showing this card at participating businesses, you will be entitled to perks not available to the general public. As the sponsor to the pro team, Revision has supplied us with a full line of equipment which will be sold at markedly reduced prices and made available to you by contacting any member of the Buffalo Wings staff. As in years past, player of the month prizes will be awarded to the top players in each division. Our registration booth will be set up outside of the entrance to the feature rink. You can obtain your locker room key from the scorekeeper.
A lot of time and planning went into making this the best Buffalo Wings Roller Hockey League summer ever. It has been our goal to provide our players with the best all around experience ranging from customer service to player appreciation. Summer 2010, let's get it started!