Cory Conacher - Canisius Athlete of the Year
Third Canisius hockey player to earn Athlete of the Year Award.
June 7th, 2010 at 12:06PM
June 7th, 2010 4:50PM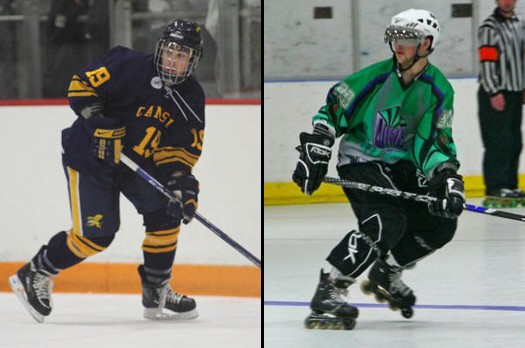 ---
Junior Cory Conacher of the hockey team and senior Sylvia Kowalski of the women's soccer team were honored as the Canisius College Male and Female Athletes of the Year at the athletic department's annual awards ceremony, held on May 5 in the Montante Cultural Center. The awards were voted on by Canisius student-athletes, coaches, administrators and support staff.
The 2009-10 Atlantic Hockey Player of the Year, Conacher recorded 53 points, 20 goals, 33 assists, seven power-play tallies and five game-winning scores. His 53 points, 33 assists and five game-winning goals are all school-record totals, while his 20 goals rank third in the program's history.
Conacher finished the season ranked second in the country with 1.51 points per game and was the only player to rank in the top 30 nationally in both goals and assists per game.
Conacher is third hockey player to earn Canisius' Athlete of the Year award, joining Stephen Fabiili in 2001 and Rob Martin in 2004, while Kowalski is the first women's soccer player to garner the award.