Sponsor of the Week!
Wholesale Pricing on All Goalie Equipment!
June 28th, 2010 at 12:41PM
June 29th, 2010 5:20PM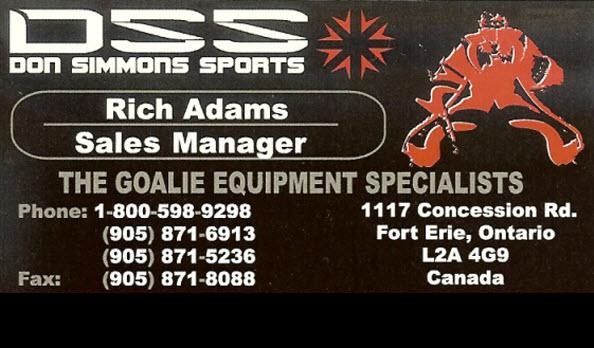 ---
Fort Erie, ON, Canada, L2A 4G9

Toll Free: 1-800-598-9298
Monday to Friday 10am - 9pm
Saturday 10am - 6pm
Sunday 12pm - 5pm
BUFFALO WINGS PLAYERS CARD PARTICIPANT

Wholesale Pricing on All Goalie Equipment when you present your Buffalo Wings Players Card!
Don Simmons Sports started as a small but respected sports equipment store over 20 Years ago. We evolved into the First Ice Hockey Goalie Equipment Specialist Store. We began to manufacture our own lines of Goalie Equipment to fill the void of Top NHL Level equipment at affordable prices. These practices have become our values and the keystone of our business. "NHL Quality at Affordable Prices" served with the knowledge of Goalie Equipment Specialists. Today we are the largest goalie equipment store on the planet.
Don Simmons Sports is the world leader in goal equipment sales and services. We will accurately fit any goaltender regardless of size, age, level or style of play in store, over the phone or online.