16u Wins TORHS National Championship!!!
Revision Buffalo Wings Bantam Wins Gold!!!
July 18th, 2010 at 6:37PM
July 19th, 2010 9:49PM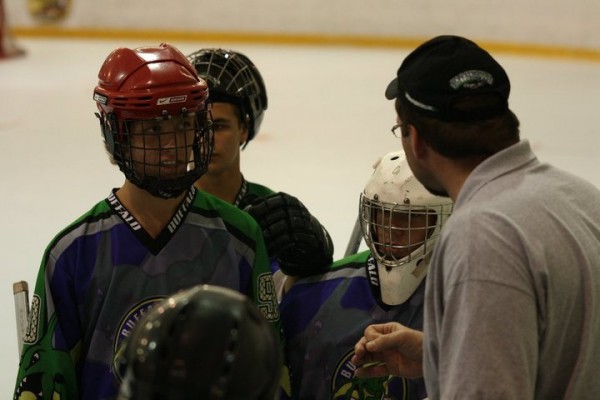 ---
Torhs Nationals Buffalo Wings Purple 16u
So here it is ….. We start out with issues before we even leave Buffalo, as I have three players back out at the last minute. This leaves the team with six players and a goalie. I believe we are going to be ok but we will see.
First game vs St Louis Blast
–One guy forgets his equipment in Buffalo. (Thanks to the parents who split the drive to get his stuff to Detroit) Our guys are completely outmatched and tired and boy do we need those practices before we go to a tournament.Can not find a rhythm and
lose 8-1
Second game vs St Louis Deputy Dangles
—The boys got some rest for this one and came out to play. This game was in our hands til late in the second half when we deflected a shot in on ourselves that sent the game into a shootout. We went thru five shooters and could not solve the goaltender and they got one by our tender.
Loss -2-1
Third game vs Pennsylvania Typhoon
-This was another hard fought game as the Typhoon held us at bay and we could not get any good shots off. The guys resorted to trying to be fancy and did not get the chances they needed to win.Once again we deflected in one of there shots for the winning goal.
Lost 2-1
Fourth Game vs ISCA Grizzlies
- Need this game to make it to the qtr finals.Little bit of a scheduling snafu by Torhs as The Grizzlies were scheduled to play the 18u final at the same time and a lot of the players played on both teams. After a bit of a push back we played .The game was pretty tight and fierce as both teams played extremely hard . The boys finally got the message of possession and shoot. Superstition starts to take affect here as I start to wear my new Michigan hat .This ones gets close at the end as the Grizzlies pull within one and pull ther goalie to try to tie it up but we score right off the faceoff and go up by two but wait the Grizzlies do not give up and out one more in and with some solid work along the boards we finish out the control game and move into the qtr finals
Win 4-3
Fifth game Qtr Final vs Detroit Reebok 94
-This was a tough one as we had not expected to play this team so we did not get a chance to watch them play. Our guys stuck to the winning combination of possession and shooting.The refs did play a factor in this one as they called back a goal on us and a goal on them. Either goal could have been the game winner. I will give the refs kudos as they were in the right places at the right times. This won stayed locked up at 1-1 and went to OT . We skated down the left side of the rink and fired a shot from about the circles and sniped the top left corner. Just another testament to shoot the puck.Our defense was tenacious in this one as well as our goaltender
WON 2-1
IN OT.
Sixth game Semi Final vs St Louis Deputy Dangles
—At this point the division is in a uproar as seeds 1-4 are out and it is between 5-8 for the championship.This game the boys did not wait they could taste revenge from the first OT loss .They wasted no time and scored four goals in the first half and then did not let them breath after that . This game got a little nasty at the end as the chirpping got going and my guys would not back down . We controlled the puck literally for the last 4 minutes of the game as they were so frustrated and only concentrated on the cheap shots at the end .They ended up with 8 penalties at the end of the game along with some misconducts. I want to give my guys credit for keeping there heads as we were going to the championship game. (We had watche the Bar Down Billionaires lose there heads against Great Britian and then went into thers semi final game against our 18u team short three of there top guys)The boys just got better each game
Won 5-2
Championship Game vs St Louis Blast
—Redemption 101—We statrted out a little nervous in this one as this team had dismanteled us in our first game. We gave up two goals in the first half and were downgoing into the second half. I told the boys that got this and they did. We came back with two goals and tied the game up .With some very stingy defense and great goaltending we kept the other team frustrated and just waited for our chance. We got our chance at about 7 seconds left , our player drove down the left side boards and put a sniper in the top corner with 2.5 seconds left in the game. Championship was ours .
3-2
Overall I will call these guys the "Heartattack Kids" as they produced those like symptons for me in every tournament. We finished up with two golds and a silver out of four tournaments.Including the National Title.
The boys were great and deserve all the credit:
Nik Sylvies –7g,5a 12 pts MVP OF THE CHAMPIONSHIP GAME
Mike irwin -2g,5a 7pts TREMENDOUS WORK ALONG THE BOARDS AND THE CORNERS GREAT PASSER
Greg Bala – 3g,2a 5pts CAME OUT OF HIS SHELL AND FOUND IF HE SHOT HE WOULD SCORE
Chad Szymanski- 3g,2a 5pts FIERY DMAN WITH GREAT SPEED TO JOIN THE RUSH (DON'T FORGET YOUR GEAR)
David Kulczyk-2g,1a 3pts STRONG DEFENSE WITH A CANNON FOR A SHOT (USE IT)
Nick Metcalf-0g,3a 3pts SUPERIOR DEFENSE WITH AN OFFENSIVE MIND
Matt Hanley – save % of .850 TOP GOALIE FOR THE TOURNAMENT
We got sick of saying " we should have beat that team" and buckled down. Great job to all the boys and special thanks to Marc Metcalf and Greg Bala who helped me thru the season.