Follow the Revision Buffalo Wings at Narch!
Update: Junior Platinum takes on Tour Border Cats for GOLD at 8:20PM!!!
July 31st, 2010 at 10:00AM
August 1st, 2010 5:00AM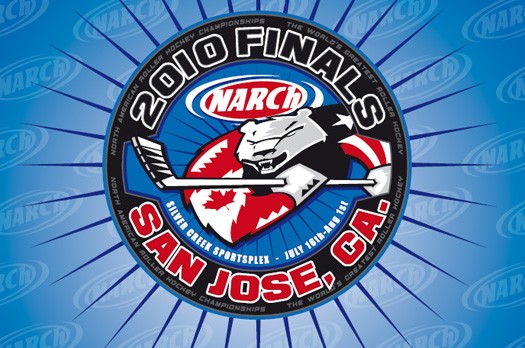 ---
The Revision Buffalo Wings will be competing for the sports ultimate prize this week in San Jose, California. Led by Head Coach Eric Haak and Assistant Coach Jeremy O'neill, the guys have spent countless hours on the rink, in the locker room, and in the gym preparing physically and mentally for the task at hand.
When asked about his thoughts on the upcoming events, Head Coach Eric Haak says, "The guys are ready to battle hard, knowing the challenge ahead, they're ready to go, ready to fight for the ultimate goal." Power forward Russ Folga had this to say in the locker room after Mondays meeting, " As a team we needed this meeting, we lost who we were for a second there, but getting everything out on the table has really solidified our team unity. Personally, I have been hitting the gym hard, training like never before. My teammate, Alex Durinka, and I have been working out together, competing against one another to achieve the ultimate jackness."
So for the next week, here is the place to follow the Revision Buffalo Wings in their quest for glory.
7/26 02:00PM vs. Team MKS W 8-0

7/28 04:00PM vs. RBK Eschelon Jr Ducks W 4-2


7/29 03:30PM vs. Eschelon Jr Ducks T 3-3


7/26 05:45PM vs. LA Pama Cyclones T 6-6
7/28 09:20PM vs. Mission Raiders W 5-2


7/29 06:45PM vs. Mission Momentum T 5-5


7/27 02:00PM vs. RBK Eschelon Jr Ducks W 3-0


7/29 08:30AM vs. Labeda Tritons W 6-3


7/30 02:40PM vs. ISCA Grizzlies L 6-2


7/27 04:45PM vs. Mission AKS Empire L 2-5


7/29 11:30AM vs. Mission AKS Empire L 1-3


7/30 09:20PM vs. USA Clinic L 7-5


PLAYOFFS


Quarterfinal

7/28 10:15AM vs. RBK Eschelon Jr Ducks L 6-5


Quarterfinal

7/30 08:40AM vs. NY Mission Axiom W 5-1


Quarterfinal


--------------------------------------------------------------

Semifinal

----------------------------------------------------------------

Semifinal
7/30 04:35PM vs. RBK Eschelon Jr Ducks W 4-3


Semifinal

--------------------------------------------------------------

Final
----------------------------------------------------------------


Final


7/31 05:20 PM vs. Tour Boredercats W 2-0


Final
--------------------------------------------------------------

---
| | | |
| --- | --- | --- |
| Eric Haak of the Buffalo Wings checks out some D1 action. | A goalies worst nightmare...a hat trick of Revision Wings! | The goods!!! |
---