Revision Buffalo Wings take Gold in Jr Plat!
Geoff Abrahams comes away with the game winner...
August 1st, 2010 at 1:00AM
August 4th, 2010 3:03PM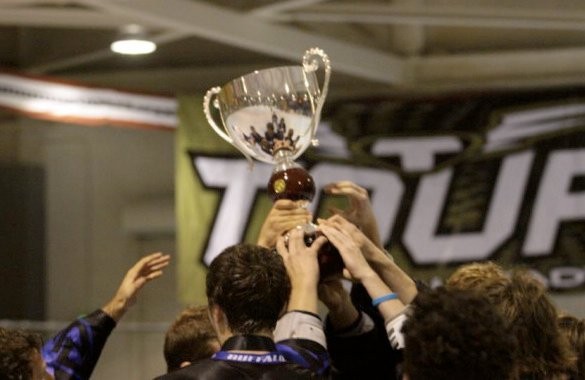 ---
July 31, 2010

By Doug Jones
Junior Platinum champion decided late in game. We have to wait until the final four seconds to see our winner pull it off.
We recapped the division yesterday, but the Championship game between the Tour Bordercats and the Revision Buffalo Wings was everything a game should be.
Both teams had numerous chances in a game which would see The Tour Bordercats outshoot Buffalo, 19 - 14. The difference for both teams was their goaltenders. The Tour Bordercats Jason Stross played an amazing game and down the other end for the Wings, Richie LaTona was just as good. They both came up huge and made key saves when they needed to.
It would be Geoff Abrahams goal in the first half off of Chris Kendall's pass that would be the lone goal and game winner which would hold up. The Tour Bordercats would get off some great scoring chances in the second half, but would not be able to convert. With :04 seconds left, Vinny Scarcella would hit the empty net to seal the victory and championship for the Wings.