Week 1 Schedules & Spring Session Info
Full schedules will be posted after week 1 of play
January 26th, 2011 at 3:26AM
January 26th, 2011 7:20AM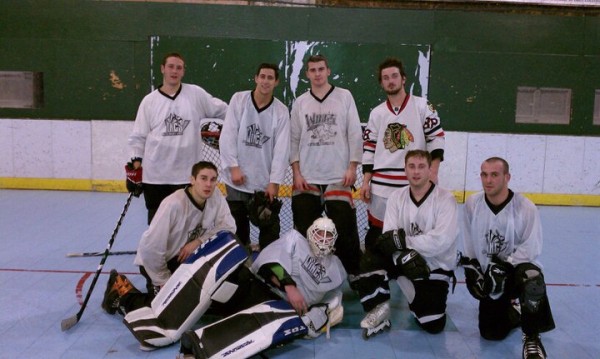 ---
Spring Session Info & Schedules Below
Cost:
5 skaters = $110 per player
6 skaters = $100 per player
7 skaters = $90 per player
8 skaters = $80 per player
9 skaters = $70 per player
10 or more skaters = $60 per player
GOALIES = $50 Total
PLEASE READ:
Each player must have $50 deposit at first game NO Exceptions. Balance will be due before your 4th game. You must have the $50 deposit in order to get on the rink this Sunday or Monday. Each player must also have USA Inline Insurance. You must do this online with a credit card and print out the form and bring to the rink so we can scan your form. Any questions call Jason at 716-444-2667 or email
[email protected]
.
Bronze/Copper/Iron Divisions Week 1 Schedule
Sunday 1/30/11
12:00 pm - High Rollers vs. Old Red Machine
1:00 pm - Beer Growlers vs. Motor Boaters
2:00 pm - Swarm vs. LTP Boomers
3:00 pm - Short Winded vs. Wrecking Crew
4:00 pm - Big Puckin Sticks vs. Two Dragons
5:00 pm - RV Nation vs. Mother Puckers
6:00 pm - Horse Collar vs. Aces
7:00 pm - Chiefs vs. Werewolves of London
8:00 pm - Bad Publicity vs. Chuck Norris
9:00 pm - Monin vs. Dangle Inc
10:00 pm - Lawn Jockeys vs. Jonathons Heros
11:00 pm - Inline Genocide vs. Team Rauh
Silver/Bronze Monday Week 1 Schedule
Monday 1/31/11
8:00 pm - Watsons Wish List vs. Mystery Inc
9:00 pm - Team Thumper vs. Big Red Machine
10:00 pm - Goodfellas vs. Team Mylec
11:00 pm - Fellowship of the Rink vs. Alligator Pie
Tuesday 2/1/11 Silver/Bronze continued
9:00 pm - Chuck Norris vs. Victorious Secret
BYES: Swoop Daddies & Real Vekhaaks
NOTE: Each team may have to play at least 1 Bronze Monday league game on Tuesdays at 9 pm due to # of teams and limited rink time on Mondays. Thank You