2011 Buffalo Wings Summer Registration
All you need to know to officially register for Summer 2011!
March 22nd, 2011 at 8:15PM
March 23rd, 2011 3:57AM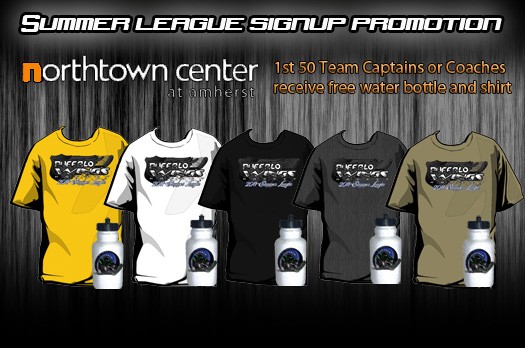 ---
It's that time again... With winter almost behind us, we are eager to present registration details for the upcoming spring and summer sessions at the Northtowns Center of Amherst (formally the Amherst Pepsi Center). As always, we have been working hard behind the scenes to come up with new and exciting ways to improve the quality of the organization and provide you with the most competitive and inviting experience for all ages and skill levels.
Our first major announcement surrounding this years registration involves a special promotion for the most eager of competitors. The first 50 team captains or coaches to register will receive a FREE limited edition Buffalo Wings tee shirt AND water bottle! In keeping with last years tradition, no worries if you miss out on the above promotion, because the Buffalo Wings will be providing each league player with a FREE team jersey.
All Players participating in the Buffalo Wings Roller Hockey League MUST have USA Hockey Inline Insurance prior to taking the floor for the first time (No Exceptions)! The registration process is simple - Please click
2011 USA Hockey Inline Registration
- print your form out, then bring it to your first game or skate and a Buffalo Wings staff member will scan you into the system! You will then be officially registered for the 2011 season!
Youth Registration and Information -
Adult Registration and Information -
Once you have selected the desired form, there are a few ways in which to register -
1) Via Phone:
Monday - Friday 9am - 4pm and Saturday - Sunday 9am - 1 pm: contact Eric Haak (716)903-2658
Monday - Friday 4pm - 11pm and Saturday - Sunday 1pm - 6pm: contact Jason Flowers (716)444-2667
Monday - Friday 4pm-9pm and Saturday - Sunday 9am-12pm :contact Gina Smith (YOUTH ONLY) (716)380-6643
Monday - Friday 5pm-9pm and Saturday - Sunday 12pm-3pm: contact Wendell Smith (YOUTH ONLY) (716)471-7260
*When registering by phone, the formal registration form will not be required, our staff will take all of your personal and credit card information.
2) Via Fax: Fax your registration form with a credit card number at anytime to (716) 634-6714. Once faxed, our staff will send you a confirmation email with your registration details.
4) On Site Registration: Located at the Northtowns Center at Amherst, dates and times listed below. When registering on site, we accept cash, check and/or credit card.
On Site Registration Dates:
In Person: Register at The Northtown Center
* Saturday March 12th 11 am - 3 pm
* Saturday March 26th 11 am - 3 pm
*Saturday April 2nd 11 am - 3 pm
* Saturday April 9th 11 am - 3 pm
* Monday April 11th 5 pm - 9 pm (deadline)
Additional information regarding registration can be found in our
Docs
and
News
sections on the website, so check these pages out, as many of your questions may be already answered.
Like seasons past, we are anticipating this summer to be sold out and spots will be limited, therefore we strongly encourage early registration. For team registration, the team captain must provide a $100 deposit AND a $50 forfeit fee in order to ensure official registration. (Team pays referee fees $25.00 per team directly to the referee before each game. $50.00 is paid up front and goes toward the referee fees for the final two games or any forfeits. If a team forfeits its game, it is responsible for ALL referee fees.) For individual registration, full payment for the season must be provided at the time of registration. Once registration has closed, we will begin posting schedules on our web site through out the week of April 11th under the
SCHEDULE
Section. Each team is responsible for checking and keeping track of their scheduled game times, while all individual, learn to play, beginner registrants, and Youth League Registrants will receive a phone call with their first game time.
We have been working extremely hard to provide you with the best summer season thus far and look forward to seeing you soon!