Marathon Attempt a Huge Success!!!
27 hours of hockey equates to almost $15,000 to Roswell!
March 7th, 2011 at 7:41PM
March 9th, 2011 3:59PM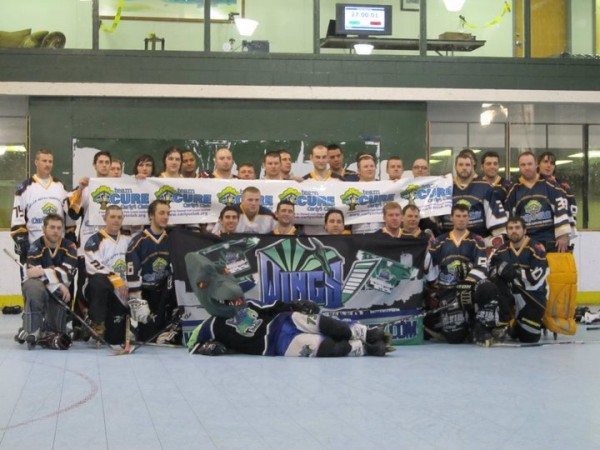 ---
On behalf of the Buffalo Wings Roller Hockey Organization, I would like to send a heartfelt thank you to all of the participants, volunteers, and sponsors for this past weekends event. To think nearly one year ago, Mike Angstenburger presented with an idea of breaking the world record for the longest consecutively played inline hockey game that would eventually flourish into what we experienced over weekend was truly amazing. My hat goes off to all of those who spent countless hours orchestrating the entire event, without all of you; this idea would never have become a reality. Thank you to all of the volunteers for donating your time and showing support not only to the Buffalo Wings, but also to Carly's Club. To the players, thank you for donating your time and efforts into making this goal achievable; not only in breaking the world record, but more importantly, raising money to further cancer research as all of the proceeds will be donated to Roswell Park Cancer Institute. It is hard to believe 27 continuous hours of hockey was played this weekend. With all of the highs and lows, it was definitely something none of us will ever forget. To all of the sponsors, both individual and companies alike, thank you for your generous contributions not only to get the event jump started, but also to continue the fight for a cure for cancer.
The Buffalo Wings and its 32 representatives, broken down into a white and blue team, battled through both physical and mental struggles, now take their place in the Guinness Book of World Records, setting the limits even higher for the next attempt at setting a new record by any other contender. Without all of the staff, volunteers, players, and sponsors, this event would have had no basis to stand on. So thank you to all who participated and those who came to show their support in cheering the players on. The Buffalo Wings are elated to announce nearly $15,000 was raised at the event, a result that proved to be even better than expected!
27-hour game goes for place in records
Roller hockey teams await word on feat
The Buffalo Wings Roller Hockey skaters did their part over the weekend.
Now it's up to Guinness World Records to accept their application for the longest roller hockey game in history at 27 hours, 20 minutes.
The Blue and White roller hockey teams dropped the puck in Lockport's Kenan Center at 10 a.m. Saturday and finished at 1:20 p.m. Sunday in a marathon of wheels, sticks and pucks that netted about $15,000 to benefit Carly's Club for Kids and Cancer Research.
"When it was all over, the adrenaline kicked in, but they'll probably all sleep the rest of the afternoon," spokeswoman Cheryl Walsh said Sunday.
She said two teams of 16 players continuously competed, occasionally spelling each other. While no official Guinness adjudicator was on hand because of cost considerations, the Wings organization carefully followed all the Guinness rules and documented the entire marathon.
"They'll review everything and let us know in a few months, but we're pretty confident," she said of the Guinness officials.
The current record for the longest roller hockey game -- 25 hours, 20 minutes -- was set last December in France.
The Buffalo players raised money through pledges, from spectators' donations and from an auction at the event. Players also wore names on their uniforms in memory of friends who have died of cancer.
Proceeds from the event benefit Carly's Club at Roswell Park Cancer Institute, which offers support programs for children diagnosed with cancer and their families. Carly's Club also raises funds for pediatric cancer research.
The event was sponsored in part by Drum Oil and Propane, Pyramid Time Systems and Foxy Delivery Service.
And for those keeping score at home, the final score was Blue 444-White 365.