Attempt to Break World Record
By Justin Smith
March 9th, 2011 at 5:10PM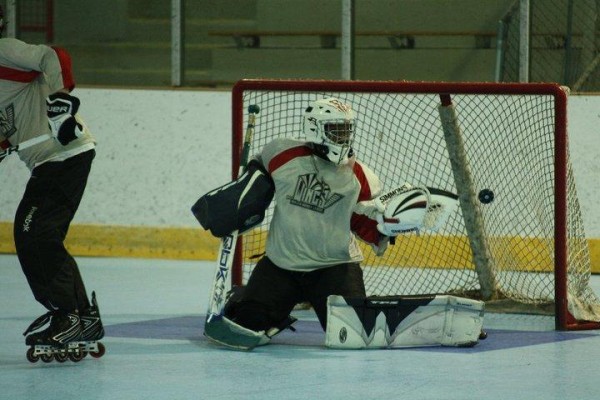 ---
Buffalo Wings Attempt to Break World Record
By Justin Smith
At 10 am on Saturday March 5th, 28 players and four goalies have gathered at the Kenan Center in Lockport, N.Y. to play a single game of hockey. By 6 pm players were resting and eating food on the bench. On the rink, the score is 79 to 121. The players have been playing for 9 hours straight so far in the hopes of setting a world record and raising money for Roswell Park's Carly's Club (Cancer Research for Kids).
After over 11 months of planning, the Buffalo Wings Roller Hockey League was finally able to organize the record-setting event at the Kenan Center with the help of many gracious volunteers and sponsors. Kohl's Cares for Kids provided volunteers who were there helping with selling food and beverages to help raise money. Even more volunteers were hustling about the facility to make sure everything ran smoothly, which it did. "It's running more smoothly than I anticipated," said Amber Bunk. "We've had a lot of cool volunteers."
Photographers also camped around the rink to capture images from this historic event. Issac Lopez from Buffalo photography was there taking thousands of pictures. He had over 1,000 pictures within the first three hours and predicted he could get 10 times that amount by the time he was done. "I've never done an event this big before," said Lopez.
In order to play for 27 straight hours, the players divided their teams into two seven-man rotations. When one group of seven was playing --four on the rink and three on the bench for substitution--the other group of seven stayed on the bench eating, napping and staying hydrated.
The main purpose of this event however was not to simply set the world record for longest continuous in-line hockey game; the goal was really to raise money for Carly's Club for Kids and Cancer Research. Many of the players playing in the game had family members that were touched by cancer. "My Uncle passed away three months ago," said Joe Laraiso. "It gives me inspiration to keep playing."
To help raise money, there was also a Chinese auction. "There's been lots of donations," said auction organizer Carolyn Angstenberger. "We're doing great." The Chinese auction along with donations and proceeds from food and beverage sales earned approximately $14,500 for Roswell Park.
At 11:21 am on Sunday, the Buffalo Wings broke the former record for longest in-line hockey game, which was 25 hours and 20 minutes, but they didn"t stop there. The Wings played until 1 p.m. and as the minutes ticked away, more and more fans began showing up as Wings president Eric Haak kept the players energized with his encouragement. Excitement and anticipation filled the air all the way until 1 o'clock when the buzzer went off and the game was officially over with a final score of 444 to 365 in favor of the blue team.
"The event was a huge success," said Cheryl Walsh. Walsh and others had been planning this event since April of 2010 and the time was definitely worth it according to Walsh. Despite a few difficulties such as coordinating players, sponsors, entertainment, and the auction, the event still ran about as smoothly as anyone could've hoped for.
After the game, the players took pictures and were hit by a wave of exhaustion. "The middle of the night was the toughest," said player George Clark. "I wouldn't want to do this again for at least five years," Clark added half-jokingly.
The overall feeling by event organizers and volunteers was that this was a great event for a great cause. The record won't be official for a few months when GuinnessTM verifies the documentation, but most people associated with the event feel there's no reason to suspect the record won't be official. Event DJ, and announcer Ryan Burgess said, "This is something (the players) will remember forever."