Narch Buffalo Qualifier
Scores and Recaps!
June 1st, 2011 at 4:33PM
June 13th, 2011 2:02PM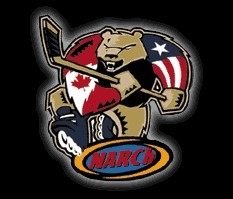 ---
Narch Buffalo 2011 Bantam Green Recap
The stage, Northtown Center at Amherst Qualifier 2011; enter head coach Luke Pronti and the Buffalo Wings Green Bantam squad. With early tournament jitters setting in, the Wings fell early in game 1 to opponents the Buffalo Storm by a score of 2-0. After regrouping and putting the jitters aside, the Wings roared back with vengeance scoring 4 goals, to finish the game in a 4-4 tie, putting an end to Buffalo Storms 4 tournament round robin winning streak. With game 1 behind them, the guys took the floor for game 2 against the Toronto Mayhem. The Wings again fell early by a 2 goal deficit, but with winning in their sights and a battery of goals, the Wings walked away with their first victory by a 7-4 margin. Despite coming off their come from behind victory, the Wings just could not get their game together in game 3 against the Burlington Wave, becoming victim to a 9-1 mercy. With game 3 a distant memory and determined to come out of the gate guns blazing, the Wings took the floor for game 4 against the Brampton Radicals. The Wings took the early lead, scoring 4 goals before the end of the first period! The Radicals would not go down without a fight...literally. They boosted their momentum just before the end of the first period by scoring their first goal. Starting the second half, that momentum was quickly destroyed by the Wings, who scored another two quick ones. Seeing their defeat imminent, the Radicals got down and dirty stepping up their physical game, however the Wings flexed back with physical play of their own. With both teams racking up the penalties and two Wings ejections later, the referees called the game with minutes left, handing the Wings their second win, a score of 9-2. Riding the wave of victory and high hopes of making the finals, the Wings entered the playoff scene against the Mississauga Mission Rattlers. Unfortunately the Wings fell to the Rattlers by a one goal deficit ending their road for gold, at this tournament anyway...