APS Products on Sale!
Use promo code WINGS at checkout to receive 30% off purchase!
June 30th, 2011 at 7:29PM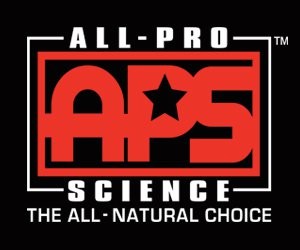 ---
The All-Natural Choice
allproscience.com
30% discount on all web site orders. Use code WINGS at checkout.

The Buffalo Wings Organization is proud to announce a partnership with All Pro Science Supplements. Founded by All Pro tight end, Tony Gonzalez, All Pro Science provides the highest quality in all natural supplements including whey and vegan protein, a post-workout complete recovery, immune defense and complete relief roll-on for muscle and joint stiffness. All Pro Science supplements are 100% all natural, free of artificial sweeteners and vitamin fortified to provide the fuel required to achieve maximum results.
The All-Pro Diet
as developed by Tony Gonzalez and nutritionist Mitzi Dulan not only to support physical strength, stamina and muscle, but to improve cognitive skills, skin tone and aid digestion. It all started for Tony when Jon Hinds came down to his football camp in Wisconsin to help him figure out what to eat and how to get enough protein. The advice he gave was to supply the body with sufficient plant-based protein by consuming a variety of pea, brown rice and hemp protein. Dr Colin Campbell, a 50-year veteran in nutritional studies and author of the great book The China Study said the same thing; that a variety of protein is the best way to meet your body's protein needs.
As a result, Tony went on a quest to purchase the recommended amount of pea, brown rice and hemp protein. While at the store he also picked up some flax seed and multivitamins. Tony's health needs were met by consuming these products, but even he was shocked when the price for his shopping came out to be a whopping amount in excess of $200. However, if this was the price to pay for good health Tony was willing to do it.
His original method was rather primitive---just put all the protein powders in a tub along with the flaxseeds and multivitamin and mix them up and add a scoop into a smoothie. Obviously it was inconvenient and time-consuming to go about it in this way. That's when Tony started thinking about how great it would be if a product existed that combined ALL three of these plant-based sources of protein with flaxseed and a multivitamin. But upon searching stores and internet, he couldn't find anything to meet his needs.
Fortunately he did locate a state-of-the-art, FDA approved laboratory
(Scilabs Nutraceuticals)
with extensive experience in the supplements industry. Not only could this company produce the supplement Tony wanted, but it could be improved by scientifically formulating it in such as way as to provide optimum benefits using premium ingredients and adding natural flavoring to improve the taste. With Scilabs' guidance the original idea was merged with cutting edge technology and now two excellent protein supplements have been made available to the public---one is made with a blend of 100% vegan proteins and the other incorporates a 100% whey protein derived from the highest quality ingredients using grass-fed cows. The days and inconvenience of obtaining, measuring out and combining all of these supplements, not to mention the significant expense of dropping upwards $200 every three to four weeks were over. Now the ultimate protein supplement is available to all, and it's at an affordable price!