Playoff Schedules
All Divisions Posted - Remember All Players need to have Played 6 games!
August 8th, 2011 at 10:46PM
August 10th, 2011 4:37AM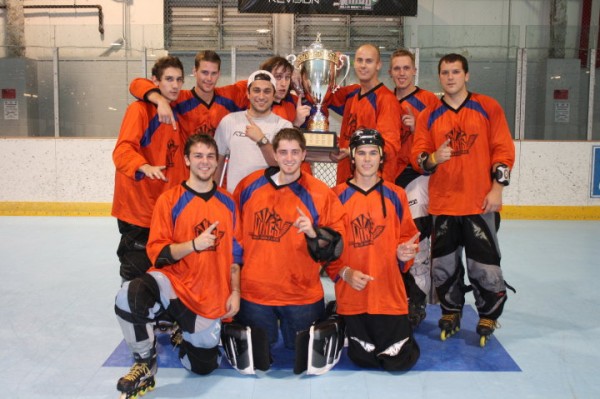 ---
It is hard to believe the 2011 Buffalo Wings summer session is nearing the end. The break proved to be a restful one for everyone, as the inline action has been heating up the arena. With the playoffs right around the corner, the race to the finish is on, and with everyone putting their best competitive foot forward, the next few week will separate the men from the boys. One thing to keep in mind before the playoff action gets underway, all players must have played at least 6 regular season games in order to be eligible for the playoffs - NO EXCEPTIONS. So with rosters set, who will be this summer's 2011 champions?! Fasten your seat belts because the stage has been set for high impact, high intensity competition, with an insane amount of great prizes to be awarded to the successors!
Monday Gold
Monday 8/1/11 (best of 3 series)
8:00 pm - Free Beer 4 vs. APS 3 (game 1)

9:00 pm - Lords 9 vs. Red Army 10 (game 1) OT
10:00 pm - Free Beer 6 vs. APS 2 (game 2)
11:00 pm - Lords 7 vs. Red Army 14 (game 2)
Monday 8/8/11
8:00 pm
- Snip Show 10 vs. Red Army 6 (game 1)
9:00 pm - Malibu Heat 3 vs. Free Beer 4 (game 1)
10:00 pm - Snip Show 7 vs. Red Army 9 (game 2)

11:00 pm - Malibu 8 vs. Free Beer 4 (game 2)

Monday 8/15/11
7:00 pm - Malibu Heat vs. Free Beer (FULL GAME 3)

8:00 pm - Snip Show vs. Red Army (FULL GAME 3)

9:20 pm - GAME #1 FINALS
Monday 8/22/11
8:00 pm - GAME #2 FINALS
9:00 pm - FULL GAME #3 IF NEEDED FINALS
Tuesday Bronze & Silver
Tuesday 8/16/11
6:00 pm - seed #2 vs. seed #7 (bronze)
7:00 pm - seed #3 vs. seed #6 (bronze)
8:00 pm - seed #4 vs. seed #5 (bronze)
RE-SEED BRONZE
9:00 pm - seed #1 vs. seed #8 (silver)
10:00 pm - seed #2 vs. seed #7 (silver)
11:00 pm - seed #3 vs. seed #6 (silver)
12:00 am - seed #4 vs. seed #5 (silver)
Tuesday 8/23/11
5:00 pm - seed #1 vs. seed #4 (bronze semi)
6:00 pm - seed #2 vs. seed #3 (bronze semi)
7:00 pm - Best remaining seed vs. Worst remaining seed (silver semi)
8:00 pm - Two remaining seeds (silver semi)
9:00 pm - BRONZE CHAMPIONSHIP
10:00 pm - SILVER CHAMPIONSHIP
14 & Under Wednesday
Wednesday 8/3/11
6:00 pm - seed #1 vs. seed #4 (14u semi)
7:00 pm - seed #2 vs. seed #3 (14u semi)
Wednesday 8/10/11
6:00 pm - 14U CONSOLATION GAME (losing teams from semi-finals)
7:00 pm - 14U CHAMPIONSHIP GAME
Thursday Copper & Iron
Thursday 8/18/11
5:00 pm - seed #1 vs. seed #8 (iron)
6:00 pm - seed #2 vs. seed #7 (iron)
7:00 pm - seed #3 vs. seed #6 (iron)
8:00 pm - seed #4 vs. seed #5 (iron)
9:00 pm - seed #1 vs. seed #8 (copper)
10:00 pm - seed #2 vs. seed #7 (copper)
11:00 pm - seed #3 vs. seed #6 (copper)
12:00 am - seed #4 vs. seed #5 (copper)
Thursday 8/25/11
5:00 pm - Best remaining seed vs. worst remaining seed (iron semi)
6:00 pm - Two remaining seeds (iron semi)
7:00 pm - best remaining seed vs. worst remaining seed (copper semi)
8:00 pm - two remaining seeds (copper semi)
9:00 pm - IRON CHAMPIONSHIP
10:00 pm - COPPER CHAMPIONSHIP
Friday 18 & Under/High School
Friday 8/19/11
4:00 pm - seed #1 vs. seed #8
5:00 pm - seed #2 vs. seed #7
6:00 pm - seed #3 vs. seed #6
7:00 pm - seed #4 vs. seed #5
8:15 pm - best remaining seed vs. worst remaining seed
9:15 pm - two remaining seeds
SUNDAY 8/28/11
6:20 pm - 18 & UNDER CHAMPIONSHIP
Saturday Copper & Iron
Saturday 8/13/11
2:00 pm - seed #7 vs. seed #10 (copper)
3:00 pm - seed #8 vs. seed #9 (copper)
RE-SEED COPPER
4:00 pm - seed #1 vs. seed #8 (iron)
5:00 pm - seed #2 vs. seed #7 (iron)
6:00 pm - seed #3 vs. seed #6 (iron)
7:00 pm - seed #4 vs. seed #5 (iron)
8:00 pm - seed #1 vs. seed #8 (copper)
9:00 pm - seed #2 vs. seed #7 (copper)
10:00 pm - seed #3 vs. seed #6 (copper)
11:00 pm - seed #4 vs. seed #5 (copper)
Saturday 8/20/11
2:00 pm - Best remaining seed vs. Worst remaining seed (iron)
3:00 pm - Two remaining seeds (iron)
4:00 pm - Best remaining seed vs. Worst remaining seed (copper)
5:00 pm - Two remaining seeds (copper)
SUNDAY 8/28/11
9:50 pm - SATURDAY COPPER CHAMPIONSHIP
11:00 pm - SATURDAY IRON CHAMPIONSHIP
Saturday 16 & Under
Saturday 8/20/11
12:00 pm - seed #3 vs. seed #6
1:00 pm - seed #4 vs. seed #5
SUNDAY 8/28/11
10:00 am - seed #1 vs. seed #4
11:00 am - seed #2 vs. seed #3
SUNDAY 8/28/11
4:00 pm - 16U CHAMPIONSHIP
Sunday Copper, Bronze, & Silver
Sunday 8/21/11
10:00 am - seed #1 vs. seed #4 (copper)
11:00 am - seed #2 vs. seed #3 (copper)
12:00 pm - seed #5 vs. seed #12 (bronze)
1:00 pm - seed #6 vs. seed #11 (bronze)
2:00 pm - seed #7 vs. seed #10 (bronze)
3:00 pm - seed #8 vs. seed #9 (bronze)
RE-SEED BRONZE
4:00 pm - seed #1 vs. seed #8 (silver)
5:00 pm - seed #2 vs. seed #7 (silver)
6:00 pm - seed #3 vs. seed #6 (silver)
7:00 pm - seed #4 vs. seed #5 (silver)
8:00 pm - seed #1 vs. seed #8 (bronze)
9:00 pm - seed #2 vs. seed #7 (bronze)
10:00 pm - seed #3 vs. seed #6 (bronze)
11:00 pm - seed #4 vs. seed #5 (bronze)
Sunday 8/28/11
12:00 pm - Best remaining seed vs. Worst remaining seed (bronze)
1:00 pm - Two remaining seeds (bronze)
2:00 pm - Best remaining seed vs. Worst remaining seed (silver)
3:00 pm - Two remaining seeds (silver)
CHAMPIONSHIP SUNDAY RETURNS 8/28/11
4:00 pm - SATURDAY 16U CHAMPIONSHIP
5:10 pm - SUNDAY COPPER CHAMPIONSHIP
6:20 pm - FRIDAY 18U CHAMPIONSHIP
7:30 pm - SUNDAY SILVER CHAMPIONSHIP
8:40 pm - SUNDAY BRONZE CHAMPIONSHIP
9:50 pm - SATURDAY COPPER CHAMPIONSHIP
11:00 pm - SATURDAY IRON CHAMPIONSHIP