Cory Conacher Makes NHL Debut (RECAP)
Former Wings forward scores first NHL goal for Lightning
September 21st, 2011 at 3:24PM
September 28th, 2011 3:12PM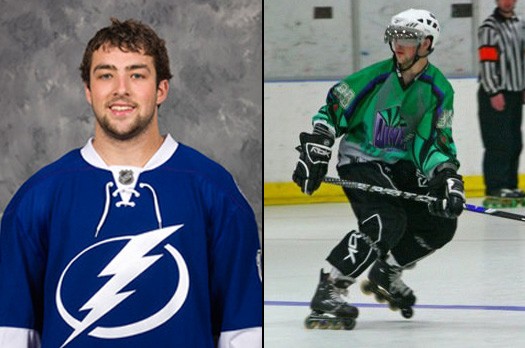 ---
http://www.tampabay.com/sports/hockey/lightning/undrafted-free-agent-cory-conacher-in-mix-for-roster-spot-with-tampa-bay/1193124http://knightnews.com
/2011/09/tampa-bay-lighting-lose-4-3-in-first-game-ever-at-amway-center/
http://sports.yahoo.com/nhl/players/5601/photos;_ylt=AhFh0Y.cSoeOcZfnrbJ8BzZivLYF?slug=30b92378ba7e271aa842dd167713a546-getty-126315039
Lightning - 3 Blues - 4 Wed 09/21/2011

7:00 PM
Excerpt from NHL.com Article

http://lightning.nhl.com/club/recap.htm?id=2011010025
Conacher brought the Bolts back even at 8:13 of the final frame by finishing off an odd-man rush with Brett Connolly, but Stewart put the Blues back up by one just 1:50 later.
Still, Conacher's goal highlighted much of what has impressed the Tampa Bay coaching staff in the previous days at the team's training camp.
"I was happy to see him get rewarded," Boucher said. "He's been fighting every day in camp and I think he's making it evident that he wants to be here."
Conachar was also featured in a St. Petersberg Times article: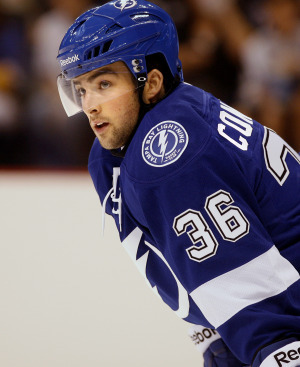 -------------------------

Lightning vs. Blues - Wed 09/21/2011

7:00 PM
Excerpt from NHL.com Article

For Wednesdays's second Preseason game in St. Louis, the line combinations are expected to be:
Line combinations
Tom Pyatt-Vladislav Namestnikov-Blair Jones
Brett Connolly-Vinny Lecavalier-Teddy Purcell
Richard Panik-Tyler Johnson-Michel Ouellet
Cory Conacher-Steven Stamkos-Marty St. Louis
Defense
Mattias Ohlund-Eric Brewer
Marc-Andre Bergeron-Matt Gilroy
Mike Vernace-Bruno Gervais
Goaltenders (split time)
Dwayne Roloson
Jaroslav Janus