Broomball Tournament
Buffalo Winterfest PowderKeg Festival on the Weekend of Feb 11/12
January 31st, 2012 at 4:46PM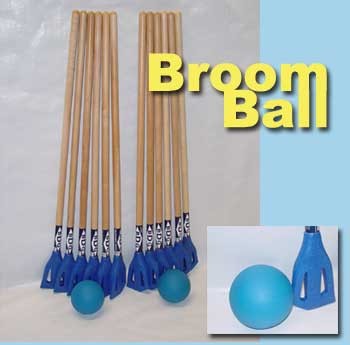 ---
Broomball Registration
Get your team together and join us for Broomball
at the Powder Keg Festival!

Click here to register your team

Saturday, February 11, 2012
Open Division (Random Seedings, Co-Ed Optional, All Levels)
9:00-9:50am Registration And Open Play
10:00-11:30am Round One Games
11:30am-1:00pm Round Two Games
1:00-2:30pm Round Three Games
2:30pm Semi-Final Open Division
3:30pm Final Open Division

Sunday, February 12, 2012
Novice Division (Random Seedings, Co-Ed Required, All Levels)
9:00-9:50am Registration And Open Play
10:00-11:30am Round One Games
11:30am-1:00pm Round Two Games
1:00-2:30pm Round Three Games
2:30pm Semi-Final Open Division
3:30pm Final Open Division

All times are approximate and subject to change.

Cost:
$100 Per Team - Registration includes up to 10 players per team, games (3 guaranteed), one complimentary beverage and swag bag for all participants.

Registration:
1st 8 teams to sign up for each division are in. Payment must be made online at time of registration.
Click here to register your team!

Game Basics:
- Divisional play with each team playing one another once. Division winners advance to playoffs (single elimination).
- All games are played on blacktop.
- Goals will be as close to International Style dimension as possible (in this case, 6'W x 5'H).
- Each team is guaranteed 3 games.
- 4 v. 4 (Plus Goalie). 2 females on surface at all times. Played on blacktop surface.
- Goaltender must wear face protection. All other players are encouraged to wear face protection.
- A game consists of two, 20 minute running time halves, with a five minute intermission. Semifinals and Championship will be two 25 minute running time halves.
- A waiver will need to be signed by all players before first game of tournament. Anyone who has not signed the waiver will not be allowed to participate.
- Coordinate same color jerseys.
- Bring your own brooms and NO CUTTING of Whiskers/Bristles will be allowed.
- All games played regardless of weather.


Rules:

Equipment
- Jerseys: All teams are recommended to have matching jerseys or t-shirts. If not, pinnies will be provided.
- Pads: Players are encouraged to wear elbow and knee pads. Helmets and gloves are not required, but to play without a helmet, the player must sign a helmet waiver.
- Shoes: Players may wear sneakers, rubbers, street shoes, or broomball sneakers during a game. Spikes or any protruding/foreign substance on the bottom of the footwear, providing an unfair advantage of traction on the ice, is strictly prohibited.
- Brooms: Only regular corn or whisk brooms are allowed. Players may use any type of tape but adding anything else to the broom is strictly prohibited. Players may not have foreign objects in or on the broom (such as shellac). Players may not cut the broom's bristle. - The only alterations to a broom that are allowed are cutting the string binding from off the bristles, taping the broom, and shortening the handle.

Playing the Ball:
The ball cannot be kicked or touched by a player's hands. Players cannot intentionally use their feet to play the ball (intentional use is determined by the referee). The ball may be directed using the head or torso, but cannot be directed with the hands, arms, or legs. If the ball deflects off a player's hands or legs the referee will decide whether or not a violation occurred.

Off Sides:
There are no off side calls as in hockey, but players must line up on sides for any face-off. If a player is off side, the other team will have a free shot at the point where the face-off was to occur.

Ball Out Of Play:
If the ball is hit out of play, it will be placed back in play at the point where a player last touched it. The opposing team gains possession at that spot. If the goalie is the last player to touch the ball, it will be placed on the dot to the left or right of the goalie. In the event it is unclear to the official which team's player last touched the ball, a face-off will occur. On any face-off, the ball must hit the ice before a player can hit it.

Checking:
No checking!

High Broom:
At all levels of USA Broomball play, a high broom is called when the ball makes contact with the player's stick above shoulder level. Opposing team will get a Free Shot (closest defender must be no more than 5 steps from free shooter) at point of foul. Foul occurring within five feet of goal will result in penalty shot.

Goal crease:
Players may not enter the goalie's crease or hit the goalie. If you enter your own goalie's crease, the opposing team is awarded a penalty shot. If you enter the opposing team's goal crease your opponent is given a free shot at the face off dot.

- All Rules are subject to change at discretion of festival committee.

Remember that this is a FUN tournament and any harassment of officials, players or fans, as well as fighting will not be tolerated and will result in ejection from tournament and possible escort from festival grounds.