2012 Travel Team Info
Revision Reebok Buffalo Wings to Light Up the Travel Scene in 2012
March 20th, 2012 at 6:06PM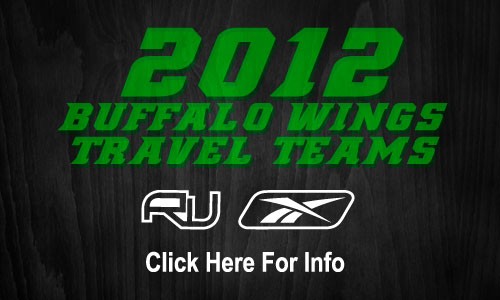 ---
Revision Reebok Buffalo Wings to Light Up the Travel Scene in 2012
Looking to illuminate the travel tournament scene, the Western New York Roller Hockey League will be holding try outs Wednesday April 11th at the Northtowns Center at Amherst. Operating under our trademark franchise name the Revision Reebok Buffalo Wings, we seek players who are dedicated to team growth and development, enthusiastic about competing, and motivated to perform at their most elite level of play to represent our organization. This invitation is sent out to players of all ages, youth to adult, as we have high hopes of expanding our travel base to field as many age divisions as possible. We have a great tournament schedule lined up this year, including 2 local regionals and 1 national tournament, TCS Finals, occurring right in our backyard at the Northtowns Center! For the destination seeker, there is something for you too with Torhs Nationals being just a few hours away in Taylor, Michigan and the grandstand of inline tournaments NARCh Finals set to take place in San Jose, California. In addition to an amazing schedule, we have a superb alignment of coaches ready to man the bench and mentor Buffalo's finest competitors straight to the top. After a year hiatus, the Revision Reebok Buffalo Wings will make their highly anticipated return to the pro spotlight under the leadership of championed veterans Eric Haak and Jeremy O'Neill! Tryouts are FREE and will run from 5 pm until midnight in 1 hour increments based on age bracket, see below for the time listing. If selected, all Revision Reebok Buffalo Wings travel players are entitled to special pricing on Revision and Reebok gear. All candidates are required to carry the Western New York Hockey Membership and only have one thing in mind... winning!
5 pm: 10/12 and Under
6 pm: 14 and Under
7 pm: 16 and Under
8 pm: 18 and Under
9 pm: 21 and Under
10 pm: Adult and 35+
11 pm: Pro
*We would also like to field a Womens Team for this summer. If interested, please contact
[email protected]
for more information.
We do have a couple of coaching spots available for the summer. If anyone would like to coach or help assist a team please fill out our
COACHES APPLICATION
. You will be contacted once the form is received.