Summer 2012 set to begin!
IMPORTANT PLEASE READ!!
April 10th, 2012 at 5:44PM
April 12th, 2012 3:59PM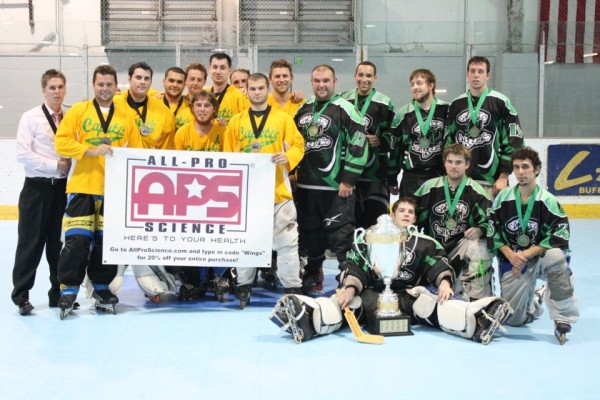 ---
Let The Countdown Beg... Summer 2012 Just Days Away
Whether it's the tease of summer heat blazing through Buffalo or residual excitement from Summer 2011, registration for Summer 2012 has been on fire! With adult, 18u and 16u registration closed, we have surpassed last years' enrollment by a landslide, selling out each night and then some! The phone calls, emails, and texts are behind us; the teams are in line; jerseys have been ordered; rink banners and board decals have been hung; now there's one thing le... the ACTION! Summer 2012 kicks off Saturday, April 14
th
at the Northtowns Center at Amherst, and we are excited to announce the new home of WNY Roller Hockey will be the Land Rover NHL1 Rink. Anticipated renovations are in order for Feature Rink, but the change of scenery is welcomed. To all naysayers out there, the transition from Feature Rink to Land Rover NHL1, although different, will be all a forgotten memory after the first week of play, and have no impact on what an amazing season lies ahead. With much less wasted space, a larger playing surface, an improved method for cooling the rink, enhanced player benches with amazing airflow, and the snack bar stacked with TVs for NHL playoff hockey just steps away, the new location opens a whole new world of possibilities!
The summer hype is undeniable with excitement like we have never seen, but there are a few logistics that need to be reviewed surrounding week 1 registration. As a courtesy, we ask that all players arrive 1 hour prior to the start of game 1 in an effort to efficiently complete the registration process and keep a smooth, timely flow of the games. This year the registration table will be located just outside the Land Rover NHL1 Rink near the snack bar. Week 1 requirements are as follows: ALL players must present a minimum $100 deposit towards their league fee, ALL players must purchase the WNY Roller Hockey Membership, a cost of $30, which is valid until September 4, 2012 and under no circumstance can any player take the floor without the membership. Additionally, team captains are responsible for collecting $50 which will be put towards the teams forfeit fee. Keep in mind, credit cards cannot be accepted for the forfeit fee, cash or check is the only acceptable form of payment for the forfeit fees. No exceptions will be made when it comes to league payment, please come prepared with the above requirements; should any player fail to meet the above requirements, they will be prohibited from participating in week 1 activities. Following league payment, and membership purchase, each player will proceed into the rink at which time they will be provided with a jersey and a personalized WNY Roller Hockey Player Card.
A message to all returning players and a promise to all new comers, if you thought last year was incredible; Summer 2012 is going to blow you away. Every league is backed by nationally known and respected sponsors who have provided a laundry list of awards and prizes. Gear up because Summer 2012 is just days away, and believe us, you will not be disappointed!