Mission Youth Programs
Mission Hockey Skills & Drills and Mission Hockey FREE LTP set to begin
April 30th, 2012 at 3:06PM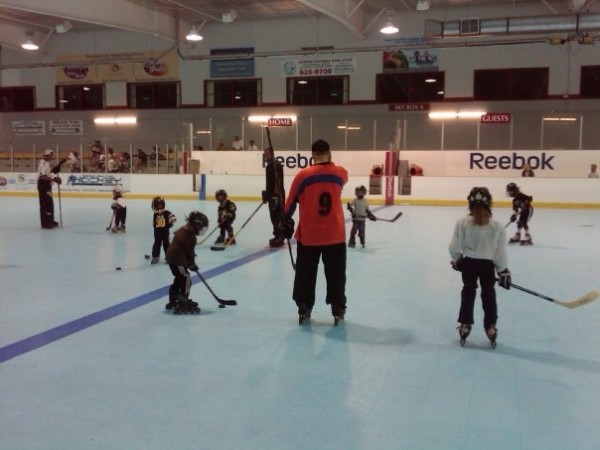 ---
Learn To Play Program:

Mission Hockey Beginner In-Line Roller
Hockey Northtowns Center at Amherst:
FREE instructional Roller Hockey for
Boys and Girls with little or no hockey or
skating experience.

Two (5) Weeks of Basic Instruction

Session 1: May 5th, 12th, 19th, 26th and June 9th
Session 2: July 7th, 14th, 28th, Aug 4th and 11th
For the following age groups:
3 - 7 years old-9 am - 10 am
8 - 12 years old-10 am - 11 am

Experienced instructors will provide lessons in
skating skills, techniques, and basic In-Line
hockey rules, techniques, and skills at NO charge
and with minimal equipment required.

Goalie instruction also available

WHAT YOU NEED TO GET STARTED:
Shin Pads, Elbow Pads, Gloves, Helmet w/cage, Skates w/
indoor wheels, Hockey Stick, Inline Pants (sweat or pajama
pants acceptable), & Cup

(Optional) Goalie equipment: - Pads, Helmet & Neck
guard, chest protector, pants, goalie stick, blocker &
Glove.

Gently Used & New Equipment available at:

Buffalo Sports
3840 McKinley pkwy
Blasdell, NY (716) 826-7700

Sports Replay
1614 Niagara Falls Blvd
Tonawanda, NY 14150
(716) 834-6595

15% DISCOUNT - mention WNY Roller Hockey


Mission Hockey Skills and Drills:
Starts: May 5th, 5/12, 5/19, 5/26/ 6/9
Saturdays-5weeks
Time: 11:00 am
Cost: $30.00
Individual Session: $8.00
Things You NEED to Know:
*All Youth House League Players must provide a valid birth certificate .
*ONLY individual sign-ups for 10u, 12u, & 14u.
*All Players need to purchase WNY Roller Hockey Membership
prior to 1st skate time $30(available at the rink)
*$10 membership available for LTP players