Molson Cash Cup Schedule
Please click here for schedule and tournament rules
June 25th, 2013 at 6:11PM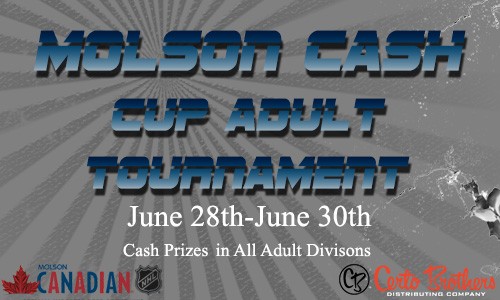 ---
Games begin Saturday at 12pm. Please arrive 30 minutes prior to your scheduled game time as your game can start early with the tournament mercy rule in effect (8 goals).
- All team fees must be paid in full prior to taking the floor for your first game
- Each player needs to be a WNYRHL member.
- Each team will be allowed 1 timeout per game
- 2 minute warm-up before each game
- 2 - 15 minute periods of running time will be played
- If goal difference is 1 goal or less, the last 1 minute of play is stop time.
- All games will be played with Rocket Pucks and ONLY game pucks will be provided. Warm
up pucks will NOT be provided.
- If following regulation a tie ensues, we will proceed with a 3 man shoot out until a
winner is declared. NO game will end in a tie.
- There will be a 30 second rest between halfs.
- Tournament play will award 2 pts for a win and 0 pts for a loss; Shootout loss awards 1 pt.
- No one is allowed on player benches (except players and coaches) during games and warm-ups, including suspended players.
SCHEDULE