Excelsior Orthopaedics
The Official Orthopaedic and Sports Medicine provider of the WNY Roller Hockey League
October 16th, 2013 at 5:19PM
October 17th, 2013 12:15PM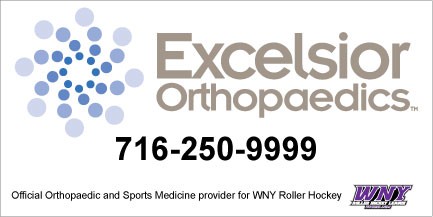 ---
The WNY Roller Hockey League is excited to partner with Excelsior Orthopaedics. Excelsior is one of WNY's leading Sports Medicine facilities. Anytime a member is injured please dial WNYRHL's private extension number below for top notch, fast service!
Excelsior Orthopaedics, LLP was officially formed in 2002 from the merger of Western New York Orthopaedic Group and Amherst-Tonawanda Orthopaedics.
Excelsior Orthopaedics believes every patient deserves to receive the finest orthopaedic and sports medicine care in a compassionate and professional atmosphere. We are dedicated to create individualized treatment plans for all our patients and their families. We treasure our relationships with patients, families, referral sources and the WNY community.
Excelsior Orthopaedics, LLP is proud to be Western New York's trusted orthopaedic and sports medicine provider. In addition to our main campus on Sheridan Drive, we have offices in Orchard Park, Niagara Falls and Batavia. Our organization has not only grown in terms of locations, but also our team. We are proud to employ over 200 local Western New Yorkers and have 18 physicians, 14 physician assistants, 18 physical and occupational therapist and 11 athletic trainers who act as the athletic trainers for many local high schools. As our organization continues to grow our leadership team and providers are dedicated to continuing to provide superior comprehensive care to every patient.
EXCELSIOR ORTHOPAEDICS
Amherst Location
3925 Sheridan Drive
Amherst, NY 14226
Orchard Park Location
240 Red Tail Drive, Suite 1 & 2
Orchard Park, NY 14127
*Special line exclusively for WNYRHL Members. Please dial 716-250-6488 and Excelsior scheduler Nicole will guide you through the process. Please let Nicole know you are a WNYRHL member and she will get you set up with a Sport's Medicine specialist.
*This line can also be used to gain access to Excelsior Urgent Care facility (Excelsior Express)

Excelsior Orthopaedics
*WNY's trusted Orthopaedic and Sports Medicine specialist
*Urgent Orthopaedic care through Excelsior Express*
*On-site x-rays, MRI, and casting
*Physical & Occupational therapy
*Comprehensive Sports Medicine team
*WNY Hand Center
*Excelsior Express offers expedited care for Orthopaedic and sports related injuries. Perfect for strains, sprains or fractures. Skip the ER.
Get the right fix, fast.
Location:
3925 Sheridan Drive Amherst, NY 14226
Hours:
Monday - Friday 8am to 9pm & Sat 2pm to 7pm
PLEASE Call ahead: 716-250-9999