2019 Youth Roller Hockey League Rosters
Games begin May 22nd!
May 18th, 2019 at 1:51PM
May 21st, 2019 4:01PM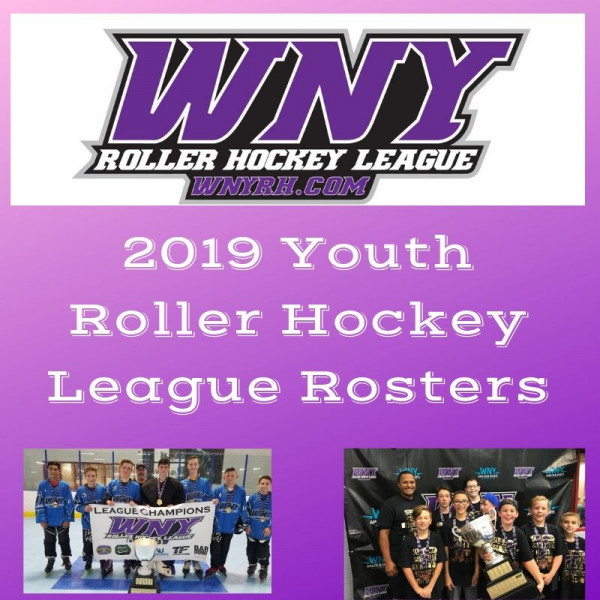 ---
Please remember we are doing our best to honor requests while provided the most competitively matched teams that we can! We reserve the right at any time in the season to make adjustments to even out teams! Please arrive 20 minutes early this week to get your jersey and sign the roster! If you got lost in the shuffle and are not on a roster please contact Eric immediately - [email protected] or TEXT 716-903-2658
We could also use a few more goalies if anyone knows of any!!!
10u/13u Division Rosters and Schedule
6pm - Team 1 (The V Brothers) vs Team 2 (Flashpoint)
Team 1 Goalie this week - Cash Wedge / Team 2 Goalie this week - Evan Frier
640pm - Team 3 (Northtown Center) vs Team 4 (Just Dishin)
Team 3 Goalie this week - Evan Frier / Team 4 Goalie this week - Aidan Covey
720pm - Team 5 (Bardown Creative) vs Team 6 (Envious Gamewear)
Team 5 Goalie this week - Evan Frier / Team 6 Goalie this week - Aidan Covey
---
Team 1 Roster (The V Brothers)
Coach - Mike Vertino
Brian Pickreign, Adam Pickreign, Preston Vertino, Mason Vertino, Gabe Faso, Nick Christman, Logan Dandrea, Joshua Swartwood, Matt Ritter, Mike Lyman
Team 2 Roster (Flashpoint)
Coach - George Glark
Jadyn Clark, Trystyn Clark, Alex Viterna, Jordan Brown, Justin Brown, Nick Kerwin, Troy Normandin, Ryan Zamer, Bedie Rittling
Team 3 Roster (Northtown Center)
Coach - Brad Waltz
Tyler Waltz, Robert Wild, David Yuzbashev, Evan Frier, Jacob Sexton, Andrew Balling, Jace Szabo, Colin Vandusen, Alex Fulfaro, Emerson Reynolds
Team 4 Roster (Just Dishin)
Coach - Zack Donner
Evan Johnson, Jack Porter, Aiden Covey, Tyler Visnecky, Sean Hamilton, Lorenzo Behr, Silvio Behr, Liciano Behr, Dominic Donato, Keegan Murphy
Team 5 Roster (Bardown Creative)
Coach - Matt Dayfert
Dan Martinek, Dominic Burgess, Dave Stefniak, Weston Myers, Alex Tallides, Josh Hoffman, Jonah Cichocki, Dylan Michael-Robb, Enzo Murphy, Sal Mantiome
Team 6 Roster (Envious Gamewear)
Coach - Guy Bax
Savino Bax, Ava Wedge, Cash Wedge, Otto Spielberger, Sofia Haak, Owen Krauss, Lucas Cirino, Kristen Kaczynski, Gavin Lyons, Mile Santa-Maria
---
14u/18u Division Rosters and Schedule
8pm - Team 5 (Regals) vs Team 6 (Young Guns)
Regals Goalie this week - Frank Pitrelli, Young Guns Goalie this week - Zach Jarosz
840pm - Team 2 (B.Y.L.T Bandits) vs Team 3 (Revision Rhinos)
B.Y.L.T. goalie this week Zach Jarosz, Revision goalie this week Elek Wittman
920pm - Team 1 (WNYamateursports.com) vs Team 4 (Vitamin Shoppe on Walden)
WNYamateursports goalie this week Frank Pitrelli, Vitamin Shoppe Goalie this week Elek Wittman
---
Team 1 Roster (WNYamateursports.com)
Coach - Zack Donner
Nick Reif, Dan Reif, Connor McCusker, Dylan Horbett, Ken Swain, Brett Beck, Maxx Donner, Lance VanDusen, Dan Cirino, Luke Tomasik
Team 2 Roster (B.Y.L.T Bandits)
Coach - Matt Dayfert
Cam Coogan, Colin Coogan, Colin Bandelian, Derek Pastor, Aj Neubert, Koryn Kaczynski, Sean Keogh, Will Burhans, Shawn Hockenberry
Team 3 Roster (Revision Rhinos)
Coach - Jeremy Abbata
Austin Bush, Josh Gregoire, Nick Anzalone, Christian Anzalone, Noah Williams, Jayce Faso, Jc Beebe, Mason Claar, Devin Light, Aaron Abbata
Team 4 Roster (Vitamin Shoppe on Walden)
Coach - John Nettina
Tim Nettina, Matt Nettina, Christian Nettina, Patrick Nettina, Tim Hammersmith, Jake Hammersmith, Aidan Boyd, Paul Rydzynski, Dominic Memminger
Team 5 Roster (Regals)
Coach - Kyle Quick
Christian Leone, Hunter Dickey, Jude Barry, Colby Dobek, Chris Amodeo, Aiden Hill, Eli Noble, Andrew Vitanza, Jack Neill, Donovan Hamilton
Team 6 Roster (Young Guns)
Coach - Mike Brown
Dan Martinek, Jack Porter, Evan Johnson, Jordan Brown, Dominic Burgess, Alex Ensminger, Justin Forgette, Conner Forgette, Alex Fulfaro, Miles Santa-Maria