Summer 22u Rosters and Schedule
22u Rosters and Week 1 Schedule
May 21st, 2023 at 10:45AM
May 22nd, 2023 4:42PM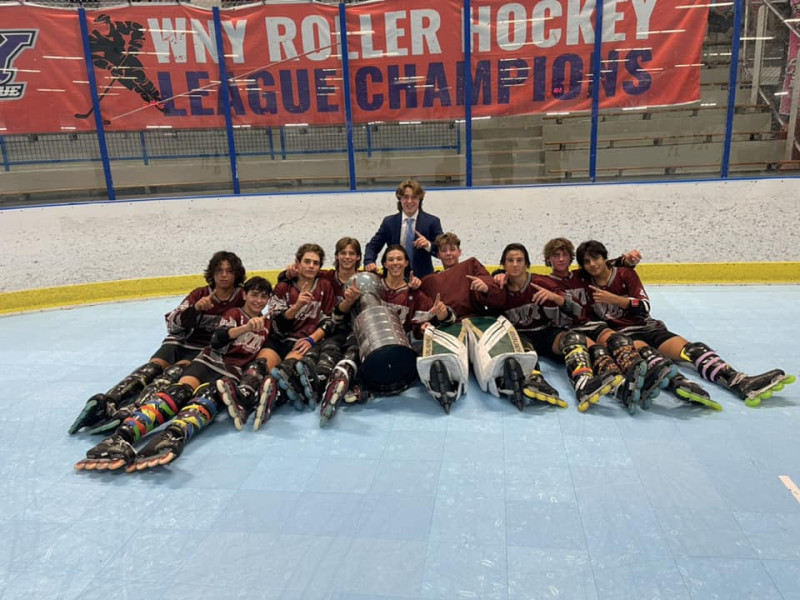 ---
We want to thank all the parents and kids who came out for our 2023 WNYRH youth league evaluations. As the rosters have grown, we appreciate a series of age ranges and skill levels. We are committed to maintaining an atmosphere the allows all skill levels to flourish and therefore have decided to adjust the 21u division to the 22u division! We are excited for the season ahead and posted are the now 22u rosters and schedule for week 1!
Once the school year ends we may be able to have 1 more game on Wednesday nights! We will send out a goalie schedule each week to ensure your team has a goalie! Communication is key and we need more than a days notice if you have issues or cannot play!
Please remember some games will be Wednesday and some games will be Friday! In addition, 1 team will play a double header each week since we have 9 teams! Please follow the schedule!
Please remember this is a recreational league! We pride ourselves on fun, competitive hockey! Rosters are not final and are subject to change if we think it will help even up teams! We can use some coaches, please contact Eric if you are interested in helping out on the bench for gameday!
We put a ton of time into the league on the backend! We understand everyone is busy but please do the best you can for the season with attendance! We appreciate it very much!
Moving forward the schedule and stats can be found on our schedule page which you can CLICK HERE to see
Jerseys will be given out this week! Please arrive 30 minutes before your game this week! All players need to check in to grab your jersey and report your number to our staff so we can get you into the stat system!
If anyone needs wheels or bearings we have them at discounted pricing to all of our members! Players will benefit the most from wearing indoor wheels which are softer than what you wear outside!
Goalies are not assigned to teams yet! For now, we will send a goalie schedule out each week letting you know what team and time you play!
Week 1 Schedule Wednesday May 24th
4pm-5pm Skills and Drills which is an open skate to anyone that plays in our youth leagues!
850pm - Team 1 vs Team 4
Team 1 Goalie this week - Elek Wittman
Team 4 Goalie this week - Devin Derda
945pm - Team 3 vs Team 5
Team 3 Goalie this week - Dan Crampton
Team 5 Goalie this week - Evan Frier
Week 1 Schedule Friday May 26th
530pm - Team 6 vs Team 7
Team 6 Goalie this week - Tom Chapman
Team 7 Goalie this week - Nate Anderson
625pm - Team 8 vs Team 9
Team 8 Goalie this week - Jaydn Clark
Team 9 Goalie this week - Nate Anderson
730pm - Team 2 vs Team 1
Team 1 Goalie this week - Tom Chapman
Team 2 Goalie this week - Jadyn Clark
Team 1 – Vitamin Shoppe
Tim Nettina
Matt Nettina
Christian Nettina
Patrick Nettina
Dom Memminger
Braeden Setteducatti
Josh Mancini
Aidan Boyd
Sam Modeas
Gavin Bernstein
Nate Mascia
Goalie – Elek Wittman
Coach – John Nettina
Team 2 – Team Mexico
Enzo Syracuse -
Owen Scott -
Jack Crumb -
David Demarco -
Evan O'Donnell -
Johny Provenzo
Will Wersinger
Ryan Creamer -
Aidan Graesser
Lawson Wallworth -
Adam Mellerski
Goalie – Jackson Grande
Coach – Larry Wallworth
Team 3 – Good Fellas
Emiliana Cassillo
Dom Cassillo
Mateo Cassillo
Jake Vacanti
Bryan Hummel
Sam Herr
Joey Edwards
Jacob Cichocki
Jonah Cichocki
Goalie – Dan Crampton
Head Coach – Louie Vacanti
Team 4 – Primetime
Kayden Mendyk
Matt Bajer
Mason Claar
Ian Williams
Quinn Malley
Jonathon Lozado
Michael Koch
Cameron Sticht
Anthony Abbata
Goalie – Devin Derda
Head Coach – Mr Abbata
Team 5 - Young Steppa's
Max McGuire
Evan Terceros
Matt Lansing
Davin Krakowiak
Eric Cunningham
Cam Fitch
Max Thompson
Frankie Cardarella
Niles Benson
Brett Cazmierski
Goalie – Evan Frier
Head Coach - TBA
Team 6 – Harry Bushs
Austin Bush
Noah Williams
Mike Scardino
Nick Will
Luke White
Collin Coogan
Jayce Faso
Nolan French
Gabe Faso
Cam Coogan
Goalie – Tom Chapman
Head Coach – Mr Faso
Team 7 – Banana Men
Eric Freeman
Troy Normandin
Kyle Hybicki
Braden Yiengst
Noah Cosgrove
Jack Cosgrove
Logan Feeney
Liam Feeney
Logan Shelton
Mclean Agrette
Goalie – Nate Anderson
Head Coach – Liam Feeney
Team 8 – Cards Night
Carl Wawrzyniak
Cam Wawrzyniak
Dan Weitz
Joash Carney
Carter Leemer
Ryan Leemer
Kyle Flynn
Seamus Andrew
Tyler Chrosniak
Justin Turco
Goalie – Jaydyn Clark
Head Coach – George Clark
Team 9 – The Wings
Sean Hamilton
Tim Hammersmith
Jake Hammersmith
Daniel Cirino
Lucas Cirino
Dan Martinek
Alex Tallides
Sawyer Rizzo
Jp Rizzo
Connor Whitney
Goalie – Lucius Casillas
Head Coach – TBA